Sheree Henry - GG, AJP, DCA
"Joie de Vivre" is a good description for Sheree Henry. "I believe that life should be lived to the fullest, and we should continue to grow and challenge ourselves." Sheree's enthusiasm can be seen in her love of gemstones and her passion for making her own jewelry. After spending many years in the corporate world, Sheree joined JTV in 2002 and has held various positions within the company. Sheree grew up in Florida, spent many decades in North Carolina, and now considers Tennessee home. Keep your fingers crossed – she is about to finish her coursework to become a Graduate Gemologist !
My Favorite Gemstone
Champagne Diamonds
"Champagne diamonds...their sparkle possesses so much depth."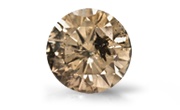 More About Sheree Henry
A Day in the Life
Sheree loves jewelry, but the true "gemstones" in her life are her three children. She has two sons and a daughter who are grown and gone, but, according to Sheree, are her best accomplishments. "They are truly my best friends!"
Fun Facts
Both Sheree and her husband are very involved in giving back to the community through involvement at their church. You can find them involved in activities almost four nights a week. Sheree believes that there is no better way to spend her time.