Wendy Williams - AJP, DCA
Crowned Miss Teen North Carolina in 1993, Wendy Williams never dreamed she would end up pursuing a career in the home shopping business. But what woman can say "no" to rubies and diamonds? After graduating from the University of North Carolina at Chapel Hill and Campbell University's School of Law, Wendy practiced law for several years before making a significant career change and joined the JTV family in 2001. Wendy says that the most interesting aspect of her job is learning each gem's historical and technical details.
My Favorite Gemstone
Tanzanite
"I'm fond of tanzanite because of its beauty and rarity, and of course, diamonds are a must-have!"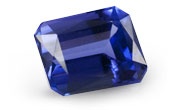 More About Wendy Williams
A Day in the Life
Wendy says she was born to shop, and it's hard not to buy all of the jewelry she lays her hands on. Wendy's favorite part of the job is hearing from customers who are excited about jewelry they purchase with her.
Fun Facts
"There's nothing better than spending a day with my two children on a boat! I love the water."