Jennifer Miller - AJP
While watching her favorite shopping network during college, Jennifer had a revelation: she wanted to become a show host. Her dream became reality upon graduation, and Jennifer spent nine years as a show host. In 2004 she switched gears a bit, working around the world as a vendor host for jewelry and skincare products, as well as hosting and co-producing seven infomercials. Now at home with JTV, Jennifer's mission is to help her customers feel good and look great: "We all work hard for our money, and at the end of the day, I want you to be happy with your purchase." Jennifer has been married to her college sweetheart for 16 years and has three wonderful children.
My Favorite Gemstone
Pearls & Diamonds
Jennifer's favorite gems are the classics: pearls and diamonds.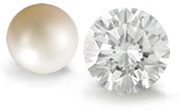 More About Jennifer Miller
Fashion Tip
"My motto is "layer, layer, and stack!" I love accessorizing. It's a true art form when properly applied. If you ever wonder if an accessory flows with the rest of your outfit, just ask yourself, "Does it complement or overpower?" Accessories should always complement, never overpower.
A Day in the Life
"I worked my way through college to help my parents with my tuition. I usually held down two jobs that consisted of waiting tables (customer service!) and retail sales (usually the top seller!). Here I am 14 years later, still doing what I love--selling fabulous products and connecting with people. Must be in my blood!"