Robert Thomas - AJP, DCA
A native Knoxvillian and gone for twenty years, Robert was hesitant to return to Knoxville. But now considers it to be the best employment move he ever made. Robert has been at JTV for over twelve years and has over twenty years experience in the jewelry industry.
Robert will tell you that he's learned more about jewelry and gemstones since arriving at JTV than in all the years before he became a JTV host.
My Favorite Gemstone
Chrome Diopside
Robert's favorite gemstone is Chrome Diopside but wouldn't say no to a nice zircon.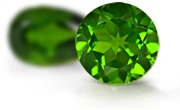 More About Robert Thomas
Fashion Tip
"Buy and wear jewelry that really speaks to you. Otherwise, it's worth absolutely nothing just sitting in a jewelry box somewhere."
A Day in the Life
Nothing tops being married to the "Mrs" (wife Kim), who is Robert's true favorite gem. Robert enjoys the "occasional" DIY project, but he'd much rather spend his free time hanging out with Kim and their family — especially now that they are grandparents!
Robert Doesn't Go on A Trip Without His:
Wedding ring and watch.
Two Things Robert Can't Live Without:
1. His wife
2. Water. Drink it, see it, play in it.
What Does Robert do in His Free Time?
"Bicycling, walking, anything outdoors including boating, camping, hiking the Smoky Mountains. When I have extra time, I attempt to play golf not always successfully."
Go-To Gift From JTV
"Artisan of Bali is what my sisters and niece love, so any item from Janyl's collection makes them happy. I love the workmanship, the attention to detail and the value."