Robert Thomas - AJP, DCA
A native Knoxvillian and gone for twenty years, Robert was hesitant to return to Knoxville. But now considers it to be the best employment move he ever made. Robert has been at JTV for over twelve years and has over twenty years experience in the jewelry industry. And he will admit that he really didn't know anything about jewelry and gemstones until arriving at JTV.
My Favorite Gemstone
Chrome Diopside
Robert's favorite gemstone is Chrome Diopside but wouldn't say no to a nice zircon.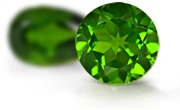 More About Robert Thomas
Fashion Tip
"Buy and wear jewelry that really speaks to you. Otherwise, it's worth absolutely nothing just sitting in a jewelry box somewhere."
A Day in the Life
Nothing tops being married to the "Mrs" (wife Kim), who is Robert's true favorite gem. They enjoy spending sunny days on their boat, the "occasional" DIY project, and hanging out as a family on 30A!!!.