Allyson Spellman- AJP
Allyson has been in the entertainment industry since the age of six. She's worked in television, feature films and on Broadway. In addition to her love of performing, she has traveled extensively as a motivational speaker and a lifestyle reporter on network programs across the nation.
Allyson's experience on live television, her energetic personality and her passion for sharing innovative products make her a relatable and genuine spokesperson. It was no surprise when this busy mom became an on-air presenter on a home shopping network.
When an opportunity to work with JTV came along, Allyson knew it would be the perfect place to combine her appreciation of gorgeous gemstones, love of learning and passion for helping women celebrate their unique, personal style.
Since joining JTV, Allyson has earned her Accredited Jewelry Professional (AJP) Certification from GIA (Gemological Institute of America).
My Favorite Gemstone
Turquoise and Black Spinel
"I love the look, lore and legend of Turquoise. I'm particularly drawn to the dreamy hue of Sleeping Beauty stones. This opaque, robin's-egg-blue gemstone works with every color in your wardrobe and can be easily worn dressed up or down," says Spellman.
"I often refer to Black Spinel as a 'little black dress perfectly captured in a gemstone'. This sleek and sophisticated black beauty is not only versatile but also durable. Black Spinel makes the choice of what jewelry to wear truly effortless. It can be worn every single day."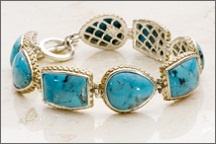 More About Allyson Spellman
Fashion Tip
Step out of your "jewelry box" and try something new. Not only will different pieces and gemstones breathe new life into your existing wardrobe, you may just find your next signature style!
Jewelry Lover and Animal Lover
In addition to her love of jewelry, Allyson is also a well-known animal advocate for her work both internationally and domestically to help endangered, neglected, and abused animals. She even created a segment on JTV Extra called "Diamonds in the Ruff" that features adoptable animals. Big and small she loves them all!
Allyson's "Diamonds in the Ruff" show won a Telly in 2019.
Fun Facts
Allyson is married to a master martial artist and "The Fastest Board Breaker in the World". He holds multiple world records for karate board breaking and he is featured in a permanent exhibit about his accomplishments at "Ripley's Believe it or Not!" in Times Square. Allyson was on soap operas and even appeared on Satuday Night Live, and Law and Order!
Go to Jewelry Gift Item
Allyson's go to jewelry gift item is a beautiful pair of black spinel hoops. "Everyone loves hoops and black goes with everything!"
Favorite Vacation Spots
Allyson's top vacation spots are Mykonos, Greece, Southampton, Bora Bora, London, and Cabo.
Jewelry Must-Haves for A Trip
Before heading to one of her favorite vacation spots, Allyson makes sure to pack a statement necklace, a 36" station necklace, hoop earrings, and a band ring.
Allyson is Vegan and Loves All Things Spicy
Some of her favorite foods include vegan/coconut ice cream, cauliflower-crust pizza, veggie burgers, and guacamole (spicy) with chips.