Kristie Carson
Kristie Carson's career has always been focused on bringing style into people's lives. As an expert in interior design, she spent her early professional years styling RV interiors for Family Motor Coach Association. Her designs were featured on HGTV before she brought her expertise to JTV where she got her start developing jewelry brands. However, her fashion know-how was in demand and she soon became JTV's Style and Trends reporter.

Kristie has reported from trade shows around the world including JCK in Las Vegas, the Tucson Gem & Mineral show, and the Gold Italy show in Tuscany. Her on-camera skills quickly transferred to her role as a show host, presenting jewelry to over 80 million homes. Kristie has built a huge fan base and customers love her keen sense of style and relatable personality.
My Favorite Gemstone
Turquoise
"Turquoise is like your favorite pair of blue jeans. It just feels so comfortable and the various blues just make you feel so good."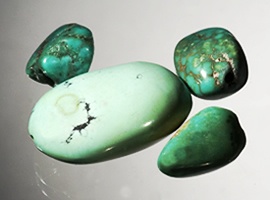 More About Kristie Carson
Fashion Tip
Jewelry is not only beautiful; it definitely speaks to your style. Whether your taste runs to classic, contemporary, or eclectic styles, choose things that you love and that make you feel good.
A Day in the Life
Kristie's personal life is spent with her husband, two girls, family, friends and her fur babies. She loves staying up-to-date with fashion, design, home decor and all things beautiful.
Kristie Go-To Vacation Jewelry Pieces
Before heading to one of her favorite vacation spots, Kristie makes sure to pack a pair of hoop earrings, a classic band ring, a must-have bangle, and anything Bella Luce.
Fun Fact
"I started at JTV in October 1994. I worked on-air, as a call center agent, & in fulfillment & shipping all in the same day! I've grown up in the business and really appreciate and value all things beautiful. I truly love making all our JTV friends feel beautiful."
What Kristie does When She's Not On-Air
"I love being active & enjoy working out, hiking, or taking the dogs for a walk. I don't do well at sitting still very often - unless I come across a great show to binge-watch or a good book on the beach!"
The Most Memorable Pieces in Kristie's Jewelry Box
"My favorite piece of jewelry would be a sterling silver bangle my grandmother gave me for my 21st birthday. My favorite gemstone item is set-of-three aquamarine that I purchased as loose gemstones. I had them set in jewelry & wore them to my daughter's wedding."
Kristie's Go-To Gifts from JTV
"Anything black spinel! It's like your favorite pair of black shoes, pants, or handbag, it works with everything!"