From loose gemstones to mineral specimens, expand your gemological education and explore your own gemstone journey.

Tune in and watch Gem Discoveries by gemstones.com Mondays at noon ET.
Watch Now!
Discover dreamy garnet gemstones at JTV. Garnet is warm in color and shines with a sparkle that catches the eye. Explore garnet gemstones and find a variety of incredible styles today.
Sorry, you may only compare up to 4 items. Please remove an item to add a new one.
Gemstone Information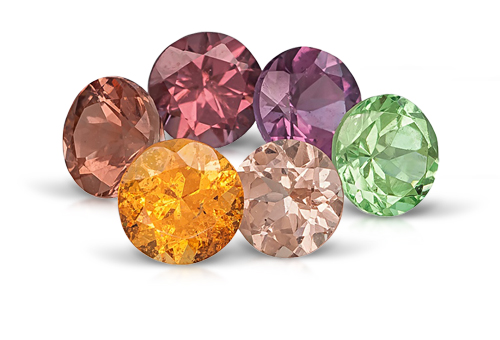 Gemopedia™
Though they all have the same crystal structure (cubic, like diamond and spinel), garnet is an entire group of minerals that vary in their chemical composition, resulting in a variety of gems featuring different colors and properties. Though some varieties of red garnet are common and found on nearly every continent on Earth, other garnets like orange spessartite, green demantoid and tsavorite, are much less abundant. There are more than 20 garnet species, but the five most important include pyrope and almandite (the combination of which creates rhodolite), spessartite, grossularite or grossularite (which includes hessonite and tsavorite), and andradite (which includes demantoid). Garnets of all species are the birthstone for January, so January babies aren't limited to the well-known red varieties.
Loose Garnet Stones
JTV offers a great selection of garnet jewelry from garnet rings to garnet bracelets, but if you're in the market for loose garnet gemstones to make your own jewelry yourself or get it custom-designed, JTV has you covered too. Oval, round, pear, trillion, square, heart – whatever shape you're looking for there's beautiful loose garnet stones for you. Our garnet gemstones come from all over the world, from Kenya to Madagascar to Mexico to Tanzania and all of them can be delivered right to your door.

Garnet is beloved for its deep blood red color, but loose garnet gemstones come in a rainbow of bright and colorful options. Grape (purple), raspberry (pink) and mint (green) garnet stones are all on the menu, and you'll definitely want to check out the vivid colors of canary yellow as well as Masasi Blue Garnet™ and Masasi Bordeaux Garnet™ gemstones. Garnet is the birthstone for the month of January and thus garnet stones would make a great gift for the Capricorn or Aquarius in your life.

Once you've checked out all of the gorgeous loose garnet gemstones that JTV has to offer, you may want to find other remarkably red gemstone options as well, such as these loose ruby gemstones. If you know that red is your color, you're sure to find what you're looking for at JTV.
You might also be interested in: Gemological Education
Share the Jewelry Love
Shop your favorite photos and share your own with #JTVjewelrylove for a chance to be featured!