Melissa Wolfe - AJP

Growing up in a small town known as the "Pearl of the Mississippi", it almost seems inevitable that Melissa would find herself in the jewelry and gemstone industry someday! From the moment Melissa stood behind a jewelry counter for the first time, she understood the power that beautiful jewelry and gemstones have in making a woman feel strong, feminine, unique, and treasured. Those early years made Melissa realize a career that could combine her love of all things sparkly with the chance to help others tell the stories of their lives is what she was meant to do!
When Melissa's not with you on-air, you can find her on the sidelines cheering on her two boys, working on DIY home projects or volunteering with one of the many animal rescue groups she actively supports. Melissa holds a BBA in Management and a Master's Degree in Organizational Leadership. She is also an Accredited Jewelry Professional and is actively working on her Graduate Gemologist certification.
My Favorite Gemstone
Citrine
"JTV's gem-quality Citrine is like "liquid sunshine" against your skin! My favorite color is yellow and whenever I'm having a bad day, I always reach for my Citrine hoops - I can't help but be happy when I'm wearing them!"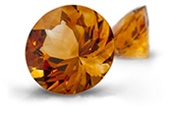 More About Melissa Wolfe
Fashion Tip
"Explore a new trend, try out a new collection... you may be surprised how it makes you feel and how much you fall in love with it when you take the opportunity to try it out in the comfort of your own home!"
Favorite Vacation Spots
"Each year my family goes to Lake of the Ozarks to spend a week with family. We unwind, unplug, float, fish, jetski and play on the lake! Definitely our happy place! We were also able to go to Turks & Cacos this past winter for a family wedding and it is literally heaven on earth."
Melissa's Go-To Jewelry Items for Vacation
Before heading out for vacation, Melissa makes sure to pack a pair of Japanese akoya pearl studs! She says nothing is more classic, timeless and they are always appropriate. Melissa also packs a Bella Luce ring and pendant. She also packs her all silver Artisan of Bali suite and her Moissanite Fire suite.
A Day in the Life
Melissa comes from a very musical family (her dad actually had a rock band when she was a child) and she's performed all across the Midwest. In fact, she even got the opportunity to be the opening act for Lee Greenwood once! She is very active with dog rescue groups, has fostered over 50 rescue dogs – and has adopted four of them herself! She is also a very proud Big 10 girl (in an SEC world) and loves cheering on her Iowa Hawkeyes! Go Black and Gold (maybe one more reason I love Citrine so much)!
How did Melissa get started in the jewelry business?
"One of my first "professional" jobs was working behind a jewelry counter when I was 20. It was a wonderful experience and I loved every minute of it! Being able to be a part of so many happy and memorable moments in people's lives, helping them select just the "right" piece and working within all types of budgets was a joy! It's also given be a wonderful perspective on how crazy the values are at JTV! We weren't doing the quality or price over 20 years ago in retail that JTV is able to provide for our customers today!"
Melissa's most meaningful jewelry item
"I have a couple of pieces. One is a mother/child pendant my mom gave me when I was pregnant with my oldest son. I have a ring that my grandpa brought back from Germany when he was fighting in WW2. It's known as "trench jewelry" and features an Iron Cross on it. It's an irreplaceable piece of history. Another favorite is a ring that my husband gave me when we first starting dating. We were high school sweethearts and it cost him three full paychecks from his part-time job! We went down to our local "mom and pop" jewelry store and picked it out together – over 26 years ago!"
What is your funniest on-air moment?
"Too many to choose from – but they all involve working with Scott! I think our Christmas show a few years ago takes the cake! We were both tired, on cold medicine and hungry and it just went off the rails immediately! He had me laughing so hard I literally couldn't stop and was crying I was laughing so hard! Definitely one of my favorite shows ever!"