Dawn Tesh - AJP, CSA, DCA
Chicago native Dawn Tesh is no stranger to the camera. A JTV host for more than 17 years, she put herself through college modeling across the U.S. and Europe. She worked for various modeling agencies and lived in Italy for two years. She earned her undergraduate degree in accounting, but it was her love for fashion and jewelry that made her transition to JTV a natural one. When Dawn started at JTV, there were only 40 employees, compared to the more than 1,200 we have now. She says the tremendous growth, friendships, and knowledge she's gained here over time is invaluable.
My Favorite Gemstone
Zircon and Prasiolite
If it's rare and exotic, Dawn probably likes it. She especially favors zircon and prasiolite.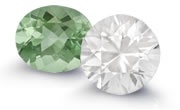 More About Dawn Tesh
Fashion Tip
"Don't buy retail!" she exclaims. When shopping for herself, Dawn chooses trendy jewelry and loose colored gemstones. Her favorite accessory is a necklace.
A Day in the Life
As much as Dawn loves jewelry, nothing compares to her affection for her son, who she calls her inspiration. Dawn stays fit by running and is involved in several charities.