Dawn Tesh - AJP, DCA
Chicago native Dawn Tesh is no stranger to the camera. Dawn put herself through college modeling across the US and Europe. She was signed with various modeling agencies and kept very busy. Dawn lived in Milan, Italy for two years, where her knowledge of the fashion and jewelry industry was fine-tuned.
Dawn joined the JTV family in 1998 as a part of the customer support team. Her love for, and knowledge of, fashion and jewelry made her a perfect candidate for a host position and in 2000 she began her JTV Host career.
When Dawn started at JTV, there were only 40 employees! Dawn was part of the team that built JTV into the powerhouse it is today. She traveled around the world with our buying teams and has touched almost every element of our business.
Walk down the halls at JTV with Dawn and you'll be impressed with how many of our employees say hello. Even more impressive, Dawn knows them by name! She says the friendships, tremendous growth, and knowledge she's gained here over time is invaluable.
My Favorite Gemstone
Zircon and Prasiolite
If it's rare and exotic, Dawn probably likes it. She especially favors zircon and prasiolite.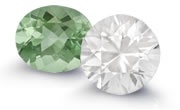 More About Dawn Tesh
Fashion Tip
"Don't buy retail!" she exclaims. When shopping for herself, Dawn chooses trendy jewelry and loose colored gemstones. Her favorite accessory is a necklace.
A Day in the Life
As much as Dawn loves jewelry, nothing compares to her affection for her son, who she calls her inspiration. Dawn stays fit by running and is involved in several charities.
Dawn's Top Jewelry Items for Every Trip
Dawn always packs hoop earrings, eternity bands, several braceletes to stack, and a bead necklace for every trip.
Favorite Vacation Spots
Dawn loves to visit Hawaii, NYC, Italy, and anywhere with clear waters.