Scott Parker - GG
Scott Parker began his career teaching choral music to high school students after he received his master's degree in music education. During this time, he also guest conducted for Virginia state honors choirs. It wasn't until he took a position directing music at a church that his life went from singing to selling. That's when JTV discovered Scott, and as they say, the rest is history. Scott has been in the jewelry business for 17 years and is an Accredited Jewelry Professional and Graduate Gemologist from the Gemological Institute of America. Scott is also Diamond Certified through the Diamond Council of America and certified in Pearls from the Gemological Institute of America.
My Favorite Gemstone
Paraiba Tourmaline
"I love paraiba tourmalin beautiful blue color that no other gemstone matches. I'm also fascinated by stones colored by copper."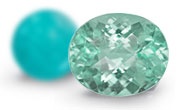 More About Scott Parker
A Day in the Life
Scott enjoys discovering new gemstones and their treatments. If you ask him what to look for when buying gemstones, he'll suggest you investigate the following: first, if it's a colored gem, what is the saturation level? Second, what is the clarity? Finally, make certain the cut is precise and in line.
Fun Facts
When he steps out of the JTV studios, Scott is an adoring father and husband. And, when he has a little "guy" time, he says you can't beat the great sport of golf.