Scott Parker - GG, AJP
Scott Parker was discovered by JTV in 1999 and the rest, as they say, is history. He is a Graduate Gemologist (GG), an Accredited Jewelry Professional (AJP) and holds a Pearls certificate from the Gemological Institute of America. Scott is also Diamond Certified (DC) through the Diamond Council of America. In addition, Scott has also completed his Cert GA in Foundation of Gemology from Gem-A of Great Britain.
On top of his on-air sales experience with JTV, Scott has jewelry sales and appraisal experience in the "brick and mortar" world of jewelry. He holds a master's degree in music education from the University of Tennessee where he was trained as a choral conductor. He still puts those skills to use weekly as the director of his church's choir and handbell group since 1999.
My Favorite Gemstone
Paraiba Tourmaline
"I love Paraiba tourmalines. In my opinion, no other gemstone matches their beautiful blue color! I'm also fascinated by stones colored by copper."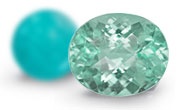 More About Scott Parker
A Day in the Life
Scott has been married since 1991 to an "amazing lady". They have two grown children and one of them is now married. Their "grands" include 2 dogs, Bailey and Honey, and a grandbunny named Stella. He loves nothing more than to spend time with those he loves most.
Fun Facts
Scott also loves to play golf. In the mid 1990's, he came within 2 inches of winning $1,000,000 in a hole-in-one contest!
What comes to work with Scott everyday?
"My shoes, my car, my fiber drink, my protein bar, and a desire and plan to share gemstones knowledge."
Scott's Vacation Essentials
His wedding band and watch.