Heidi Williams - DCA
One of our most familiar show hosts on JTV is Heidi. If you've watched home shopping very long, you have probably seen the incredible shows Heidi brings to your home each week. Heidi's dynamic personality brings excitement to every one of her jewelry shows and her fans tune in to her shows knowing that they are going to see fantastic pieces of jewelry at amazing prices.
My Favorite Gemstone
Garnet

"Although I love so many gemstones, garnet is my favorite. I enjoy all of its many colors, but the traditional Mozambique is my favorite. Its rust to red color is very eye-catching! And garnets seldom have visible inclusions. I believe that it is one of the most affordable yet beautiful gems in the world."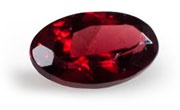 More About Heidi Williams
Interests
Heidi started a white water rafting business in the nearby Smoky Mountains several years ago because of her love for the sport. She no longer owns the business, but still loves the sport. She has now started nurturing an interest in modeling. As Miss North Carolina (1992) Heidi had the opportunity to do a great deal of motivational speaking and service. She also treasures the relationships she gained when she was a contender in the Miss America Pageant.