Mandy Bradshaw - AJP, CSA, DCA
Mandy Bradshaw believes there's beauty in everything, especially when it comes to the unusual, fascinating gemstones from all over the world. After walking in the doors of JTV for her first day of work as a customer care representative, she really tuned into the programming and knew she wanted to host programs. Today, Mandy is thankful her goal came to fruition and says she's still in love with the company. Mandy is an Accredited Jewelry Professional and is working on her Graduate Gemologist degree from the Gemological Institute of America. She also holds an undergraduate degree in biology.
My Favorite Gemstone
Pearls and Spessartite
"Pearls are regal and elegant, and they make you look and feel special. I also love spessartite garnets, which sparkle like orange diamonds. The color reminds me of a sunset over the ocean."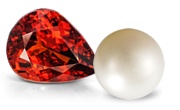 More About Mandy Bradshaw
Fashion Tip
"Always finish an outfit with accessories and remember you can never go wrong with a strand of pearls. They are an anytime, anywhere kind of accessory."
A Day in the Life
Mandy's personal life is devoted to her husband, three girls, and her dogs. She enthusiastically calls herself a Parrothead, proclaiming she loves Jimmy Buffett and anything related to the beach.