Rutilated Quartz Jewelry
Rutilated quartz jewelry displays thin veins of a mineral called rutile, giving each gem its own unique and entrancing golden-brown pattern.
8&nbsp Products
Sorry, you may only compare up to 4 items. Please remove an item to add a new one.
Gemstone Information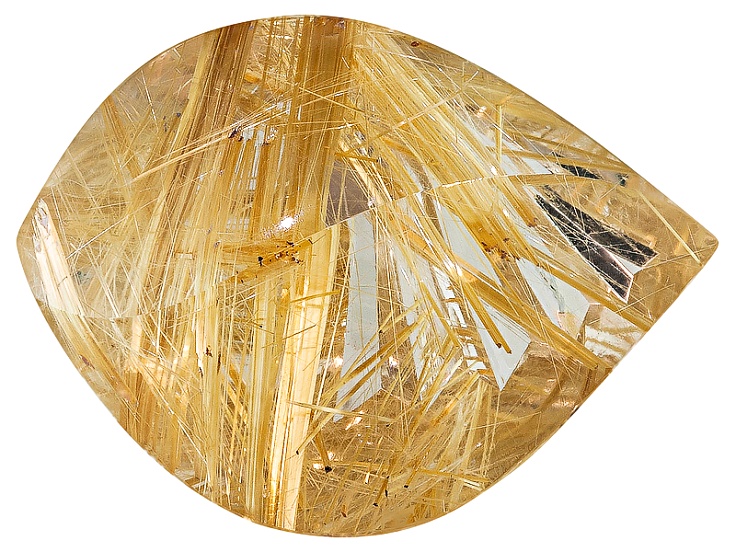 Gemopedia™
Gemstones are usually treasured for their crystalline varieties that contain little or no inclusions. Some varieties, however, are favored because of their unique inclusions. One such variety is rutilated quartz. Striking in appearance, the thin, elongated red to golden rutile needles may form parallel to one another or have random distribution throughout the quartz. On rare occasions, needles may radiate in six different directions, creating a star-like pattern. Specimens exhibiting this pattern are the most highly prized of all.
Radiant Rutilated Quartz
Part rutile, part quartz, all beauty. Rutilated quartz offers an incredible combination of the clarity of quartz and the geometric intrigue of rutile. The unique crystal patterns and lines that run across these pieces as the two materials formed seems like they are dancing with one another.
Found in a wide array of colors, this gemstone can be a deep gold, pastel yellow, warm brown or soft red. With an average Mohs hardness rating of seven, rutilated quartz is perfect for earrings, pendants, rings, and more. This versatile gem has been found all over the world–including in the United States, Argentina, Pakistan, Sri Lanka, Russian, Brazil, Madagascar, and India.
If you're looking for something unique, dramatic and classic to add to your collection, you found it with rutilated quartz. Easy to care for and effortless to style, these pieces are sure to stand the test of time.