Diaspore is a beautiful gemstone of rare Turkish origin. Enjoy diaspore gemstones as they change from kiwi green to bright orange and raspberry red.


Sorry, you may only compare up to 4 items. Please remove an item to add a new one.
Gemstone Information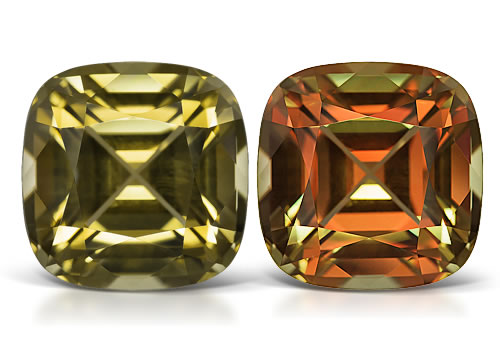 Gemopedia™
Diaspore is beautiful and exotic in a soft, subtle manner. It is also one of the lesser known of the color-change gemstones. Some of the finest examples of gem quality diaspore are found in Turkey's Anatolian Mountains, but it can be found in numerous places around the globe. A rising star in fine jewelry, it's easy to fall in love with its sparklingly brilliant, tranquil earthy colors.
Loose Diaspore Stones
How many ways are there to love diaspore gemstones? Let me count the ways! Explore loose diaspore gems from JTV to enhance your look. Shop JTV's jewelry settings to create your own special jewelry pieces with diaspore gemstones. This gemstone is a pale green and yellow-gold color that will complement any springtime outfit - or wear it year-round to enjoy the gorgeous facets of this beautiful stone. Loose diaspore gemstones from JTV come at great prices, so you'll want to shop for a few!
Also known as zultanite, diaspore gemstones come from Turkey, and they feature an incredible color-changing quality. In fluorescent light, it exhibits the yellow-green color it is known for. In incandescent light, however, it exudes a beautiful reddish pink color. Allow JTV's loose diaspore gems to mingle with other loose gemstones in your collection, like fluorite, emerald or moissanite. The way the different forms of light change their color makes diaspore gemstones super fun to mix and match.
Discover the many uses for JTV's diaspore gemstones. Try your hand at your own jewelry making with gemstone-casting kits. Diaspore gems are perfect for learning how to cast your own loose gemstones! You may even want to
shop loose gemstones
to give one - or more! - of them to a friend or loved one as a unique gift. Any home jewelry-maker will love to receive the stunning diaspore for any holiday, or even just because.
In addition to these diaspore gemstones, don't forget to shop all of the other remarkable jewelry from JTV, including jewelry-making kits, necklaces, bracelets, rings and more! JTV's jewelry collections are affordable, too. You'll be able to find exactly what you're looking for, and you might even find something new that catches your eye, all without breaking the bank.
Share the Jewelry Love
Shop your favorite photos and share your own with #JTVjewelrylove for a chance to be featured!