From loose gemstones to mineral specimens, expand your gemological education and explore your own gemstone journey.

Chrome Diopside Gemstones
Tune in and watch Gem Discoveries by gemstones.com Mondays at noon ET.
Watch Now!
Experience luxurious green beauty with chrome diopside gemstones; discover an enchanting color that inspires curiosity. Explore chrome diopside gems today.
Sorry, you may only compare up to 4 items. Please remove an item to add a new one.
Gemstone Information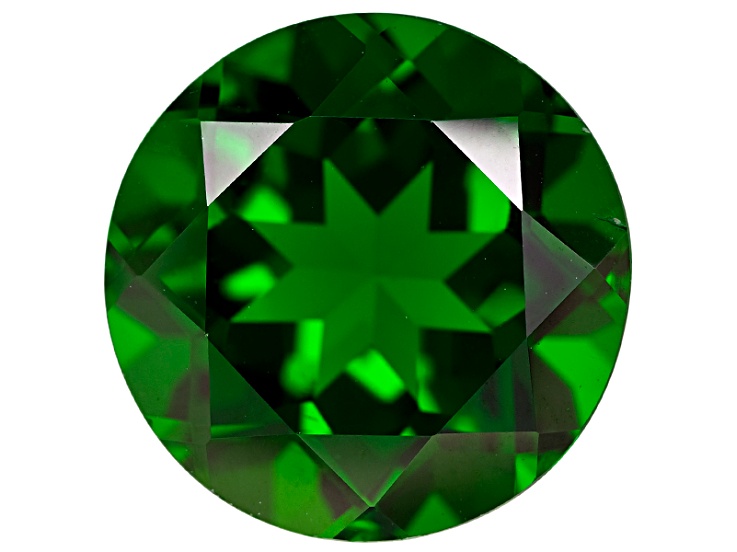 Gemopedia™
Chrome diopside has several origins, but most of the finest material, and the only commercially viable deposit, is in the Republic of Sakha in Siberia, Russia. As you can imagine, production of this Siberian treasure is sporadic due to extreme winters that last more than eight months. The vivid greens of chrome diopside are a welcome alternative to rare and pricey emerald or tsavorite garnet, but it has yet to gain mainstream recognition due to its limited availability. Minor sources of chrome diopside include Australia, Austria, Canada, Finland, Italy, Madagascar, South Africa, and the United States.
Loose Chrome Diopside Stones
Experience the luxurious beauty of chrome diopside gemstones for yourself, and you'll understand why it has become so popular in such a short amount of time. Chrome diopside is one of the most recently discovered gemstones on the market today, having been first found in 1988 in Russia's East Siberia. Word quickly spread, however, about the deep and vibrant green of chrome diopside that is amongst the richest of all the shades available and quite affordable by comparison. Since the fall of the Berlin wall and subsequent discoveries of deposits outside of Russia, chrome diopside has become incredibly beloved by gemstone collectors.

Chrome diopside jewelry is increasingly fashionable as well. Chrome diopside gemstones' amazing color and affordability make them a highly prized alternative to more expensive green gemstones like emeralds, demantoid garnet, and tsavorite garnet. You can find a wide selection of chrome diopside jewelry that will enhance your look in a bold and thrilling way today. Make a dramatic statement with a chrome diopside necklace that really pops against a black top. Subtly draw extra attention to your hand gestures when you're presenting your next big idea with a chrome diopside ring. Sparkle all evening long and create vivid memories when you wear your favorite chrome diopside bracelet out for your special evening.

When you invest in chrome diopside gemstones, you know that you are investing in an extremely in vogue and affordable gemstone that will bring you pleasure for years to come. Start making memories today by shopping for loose chrome diopside gemstones from JTV.
You might also be interested in: Citrine Gemstones
Share the Jewelry Love
Shop your favorite photos and share your own with #JTVjewelrylove for a chance to be featured!