From loose gemstones to mineral specimens, expand your gemological education and explore your own gemstone journey.

Tune in and watch Gem Discoveries by gemstones.com Mondays at noon ET.
Watch Now!
Sorry, you may only compare up to 4 items. Please remove an item to add a new one.
Gemstone Information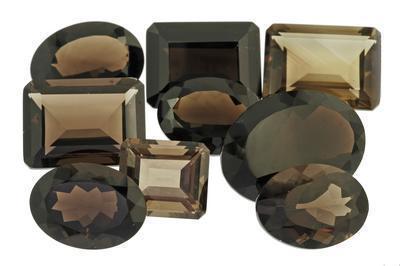 Gemopedia™
Smoky quartz is an earth-toned transparent quartz that comes in a variety of shades, including cognac. Smoky quartz gets its rich warm colors from color centers when aluminum replaces silica in the crystal lattice of the quartz after exposure to gamma rays. A popular ornamental stone, it is often carved into figurines and ornate statues, but makes quite a statement when faceted into stunning gemstones.
Loose Brown Stones
Feel naturally beautiful with the help of JTV's collection of sparkling brown gemstones. For an understated look, use loose Bordeaux Garnet gemstones as accents on the white diamond ring you've been working on! If you are creating a bold look, find a large Spanish sphalerite gemstone for the centerpiece of your soiltaire ring.
You might also be interested in: Chalcedony Gemstones
Share the Jewelry Love
Shop your favorite photos and share your own with #JTVjewelrylove for a chance to be featured!