From loose gemstones to mineral specimens, expand your gemological education and explore your own gemstone journey.

Tune in and watch Gem Discoveries by gemstones.com Mondays at noon ET.
Watch Now!
Invigorate your senses with amethyst gemstones. Discover clarity and real beauty with the gorgeous purple hues found in JTV's amethyst gemstones.
Sorry, you may only compare up to 4 items. Please remove an item to add a new one.
Gemstone Information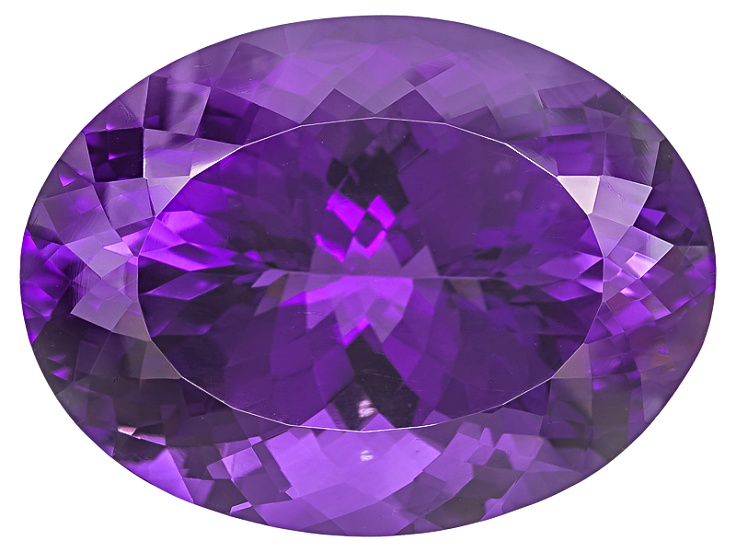 Gemopedia™
If you are fortunate enough to be born in February, amethyst is your birthstone. This wonderful member of the quartz family often forms large, six-sided crystals. It's usually quite clear and can be cut into almost every shape, which makes it ideal for jewelry. Because amethyst is a 7 on the Mohs scale of hardness, it's very wearable. Versatile amethyst offers a wide variety of shades, from reddish to violet-purple. If you prefer soft, subdued colors, you will truly enjoy the pastel lavenders of amethyst. Are you drawn to deeper, richer colors? Then you should consider some of the intense purple amethyst from Africa or South America.
Loose Amethyst Stones
Explore stunning amethyst gemstones from JTV and start crafting your own unique jewelry pieces. Browse loose amethyst stones by size, cut and color to make large statement pieces or delicate earrings. No matter what type of amethyst jewelry you're interested in making, you can find individual stones or mix and match your own sets in order to create the piece you envision.

Loose amethyst stones present the perfect opportunity to surprise February babies with extra special jewelry pieces. This form of quartz ranges in color from pinkish violet to deep purple and makes for durable jewelry due to its hardness. You can create amethyst rings, earrings, or bracelets with this wide assortment of amethyst gemstone sizes and cuts. Pair this pretty purple stone with white diamonds for a classic accent, or be bolder and experiment with pairing amethyst gemstones with citrine, morganite or emerald.

Find tear shaped amethyst gemstones and make teardrop jewelry, a beautifully elegant and classic gemstone cut. JTV's selection of loose amethyst gemstones are all quality stones, chosen by our certified experts and include verifications where applicable. Know exactly what you're buying when you shop for amethyst gemstones at JTV. While you're here be sure to explore other loose gemstones and jewelry to get inspired or to find the perfect piece for that upcoming party, birthday or anniversary. You can find beautiful, affordable jewelry and gemstones at JTV for any gift-giving occasion, or 'just because.' Shop amethyst gemstones at JTV today and start crafting your own custom jewelry collection.
You might also be interested in: Ametrine Gemstones
Share the Jewelry Love
Shop your favorite photos and share your own with #JTVjewelrylove for a chance to be featured!