How to Make a Gold Playground Necklace
Published January 2013
Designed By Fernando DaSilva / Content Supplied by Beadalon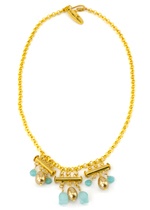 Techniques
Basic Beading
Materials & Tools
Three 11 x 8mm oval gold brown CRYSTALLIZED ™ pearls
Four sea blue chalcedony small briolettes
Two fancy cut triangle shape Peruvian opal
One gold plated medium hook/eye clasp
Nine gold plated 6mm jump rings
Three gold plated 4mm jump rings
Three gold plated small head pin
Three gold plated triple strands slide clasps
2 ft gold plated rolo chain
1 ft gold German style wire
Beadstrom™ chain nose pliers
Beadstrom round nose pliers
Beadstrom cutters
Wire twister
How to:
1. String one pearl into a head pin and make a simple loop on top of bead, trim excess wire; make 2 more of it and set aside;

2.Cut 4 of gold wire and using chain nose pliers make a 45⁰ angle; feed the sea blue chalcedony briolette to the wire and then bend it to a triangle shape on top of it;

3.Using same pliers grab the base of longer wire and bend it back down a bit; use round nose pliers to grab the wire closer to the bend and make a loop by bringing the wire over the top pliers; trim excess wire next to base o loop; use all the briolettes left to make 5 more of these and set aside;

4.Cut the chain on desired length and then attach gold plated hook and eye to the ends of it;

5.Find the center of chain; using a jump ring attach the center ring of a slide bar clasp to the chain; close gently and attach the other 2 rings using 2 jump rings. Repeat this step to attach the other 2 slide bar clasp to the chain, leaving a 3 links space between them;

6.Attach one pearl drop to center bottom ring of slide clasp; sandwich the gold pearl with one large briolette on each side of it;

7.Repeat step 6 to attach all the dangles left, keep pearl in the center and small briolettes on each side. Please, see shown picture to achieve final look.