November Birthstone Jewelry
November Birthstone: Citrine
From delicate yellows to deep oranges, citrine is a truly versatile gemstone and one of the hottest on the market!

Citrine is the birthstone for November, and JTV has the perfect selection of Citrine jewelry and gifts for that special someone with a November birthday.
Sorry, you may only compare up to 4 items. Please remove an item to add a new one.
Citrine: November's Contemporary Birthstone
Do you enjoy the rich, golden harvest colors of autumn? If you do, you aren't alone. While many people enjoy the more delicate yellows found earlier in the season, others may revel in the richer, deeper oranges, golden browns, and reddish browns found in late Fall. Join us as we celebrate the month of November with the beauty, elegance, and versatility of
November's birthstone: citrine
.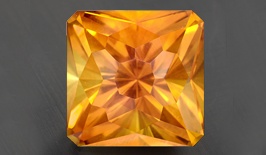 Citrine: A Member of the Quartz Family
Citrine is a member of the
quartz
family, the same family that includes gemstones such as
rock crystal
,
amethyst
,
ametrine
,
carnelian
,
chrysoprase
and
tigers-eye
. Although these gems do not resemble each other, all of them contain the same chemical composition and atomic structure. Since quartz is one of the most abundant minerals on the earth, citrine and its siblings are moderately priced. Plus, quartz crystals naturally form in large sizes, so large citrines are not hard to find. And citrine can also be found in a variety of shapes and cuts, due to modern technology and the innovation of cutters. Consumers are no longer limited to three or four shapes and just a simple step cut. Sample some of our newer mixed cuts as well as special custom quantum-cut citrine. You will be pleasantly surprised, whether the stone is a soft yellow or a deeper Madeira color.
Citrine is Perfect for Any Occasion
The best part is that citrine is affordable and available for all to enjoy. It can be dressed up or dressed down for any occasion, any time of the year. It is a truly versatile gemstone and one of the hottest on the market. If you have a special evening engagement, you may want to consider 14k gold and some diamond jewelry to augment the beauty of your stone. For everyday wear, you may want a citrine ring or pendant that matches a special outfit you purchased. Citrine's versatility and beauty have no limits.
Alternative November Birthstone
Citrine is also special because it is the contemporary birthstone for November. It is considerably more affordable and available than rare
imperial topaz
, which is considered November's traditional birthstone. Citrine is beautiful, affordable, and available as part of Jewelry Television's
Birthstone Jewelry Gift Guide.
Share the Jewelry Love
Shop your favorite photos and share your own with #JTVjewelrylove for a chance to be featured!