How to Make Fancy Eight Figure Earrings
Published January 2013
Designed By Fernando DaSilva / Content Supplied by Beadalon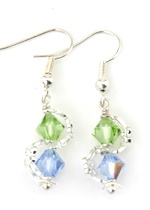 Techniques
Basic Wire Work
Materials & Tools
2 Swarovski 6mm light sapphire AB bicone crystal beads
2 Swarovski 6mm peridot bicone crystal beads
4 1:1 fancy connectors
2 ball and spring French wire
2 silver plated ball star headpins
Designer ergo chain nose pliers
Designer round nose pliers
Designer flush cutters
How to:
1.Using round nose pliers curve 2 fancy connectors. String one fancy connector onto a ball star head pin. Add a blue bicone bead + a second curved fancy connector and then string onto the other end of the first strung curved connector. Add a peridot bead and string onto the hole of the second curved connector. Make a simple loop on top of beads and wrap twice on the neck of head pin. Trim excess wire using flush cutter.

2.Open the ring on the leverback with the Beadalon chain nose pliers, and then attach to the piece made on step 1.

3.Repeat all steps to complete the matching earring.