Rebecca Moore - AJP
In college, Rebecca studied Fashion Design and soon fell in love with jewelry design. She has worked in home shopping both as a guest and host for several years. Her passion for gems grew as she traveled the world sourcing and buying fine pearls. Very quickly her love of pearls spilled over into diamonds, sapphires, emeralds, garnets and a variety of gemstones.
My Favorite Gemstone
Garnet
"Garnets come in a variety of colors and shades from green, to yellow, to red. This gem is natural in color and the most recent find of blue garnet displays magnificent color change!"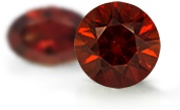 More About Rebecca Moore
Fashion Tip
"Find your style and use jewelry to accessorize and express your personality. Don't be afraid to experiment with mixing your gemstones and metals to create your own look."
A Day in the Life
"I love spending time at home with my pug and a big cup of coffee!"