Rebecca Moore - AJP
In college, Rebecca studied Fashion Design and soon fell in love with jewelry design. She has worked in home shopping both as a guest and host for several years. Her passion for gems grew as she traveled the world sourcing and buying fine pearls. Very quickly her love of pearls spilled over into diamonds, sapphires, emeralds, garnets and a variety of gemstones.
My Favorite Gemstone
Garnet
"Garnets come in a variety of colors and shades from green, to yellow, to red. This gem is natural in color and the most recent find of blue garnet displays magnificent color change!"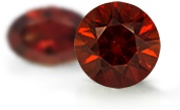 More About Rebecca Moore
Fashion Tip
"Find your style and use jewelry to accessorize and express your personality. Don't be afraid to experiment with mixing your gemstones and metals to create your own look."
A Day in the Life
"I love spending time at home with my pug and a big cup of coffee!"
Go-To Jewelry Gift Item
"Black spinel. It looks beautiful on everyone."
Favorite Vacation Spots:
Rebecca loves vacationing in Bangkok, Tuscany or taking a cruise.
Jewelry Must-Haves for a Trip
Before vacationing at one of her favorite spots, Rebecca makes sure to pack Bella Luce studs, a 60" pearl strand, Moda al Massimo hoops, and a Splendido Oro necklace.
Fun Facts
Rebecca has three rescue pugs and they are her everything.
Most Meaningful Jewelry Item
Her mother's amethyst ring. Her mom called her "the princess and the pea."
Favorite Foods
Rebecca loves curry, stir fry vegetables, and a big cup of coffee.