Jana L. Laurin - AJP
Jana has never been afraid of hard work. She started in the retail industry working through college. She has done an array of jobs from chamber maid to waitress and bar tending, naturalist on a whale watching boat, managing restaurants, managing clothing and jewelry stores, working on cruise ships as a shopping guide, and even managing the fleet of shopping guides for, in her opinion, the very best cruise line on the high seas.
Jana was living out in Los Angeles CA pursuing a hosting and acting career when she was offered a job at a retail store selling jewelry for 6 months in Alaska when the cruise ships came in. When Jana discovered her passion for gemstones and jewelry six months turned into years that she worked, at first as a sales associate and then as a manager, for a family owned and operated jewelry store. Then when offered the job as a Shopping Guide for one of the largest cruising companies in the world, she knew it was time for a new adventure. After working on ships for 3 years Jana decided to hang up her shopping shoes, as they say in the cruising world, and head into the corporate world. She soon realized how much she missed assisting people find what they love, that is when she saw an advertisement for Jewelry Television show hosts. Jana knew Jewelry Television would be the perfect place to pursue her passion, so she packed her bags and moved to Tennessee. And I think you know the rest:)
Jana is so grateful for all of her career experiences and all the people she has met along the way, she knows she would never be here without them. She also believes you should never give up on your dreams, you are yet to see the greatest potential you have within you!
My Favorite Gemstone
Larimar
This single source gem is the most beautiful color of blue and reminds me of the waters of the Caribbean.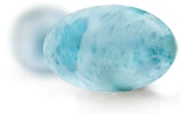 More About Jana Laurin
Fashion Tip
"My personal preference is to stack and layer, but always be you. You know what sings to you, you should always wear what makes you feel good! When in doubt classic studs can help you rule the world. And remember your ears and neckline are prime real-estate, would you leave the house without your shoes or purse, don't forget to complete your look!"
A Day in the Life
Jana studied Marine Biology in college and is a wealth of knowledge on random whale and marine life facts! She was born and raised in upstate New York where her family had Dairy Farms, now she spends as much time as she can on the rocky coastline of Maine. She has a wandering heart and loves to travel. Jana also loves football season, hockey, and baseball.