How to Make a Star Spangled Bracelet
Published December 2012
Designed By Margot Potter / Content Supplied by Beadalon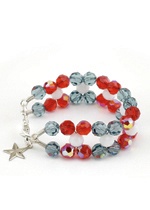 Techniques:
Stringing, Crimping
Materials & Tools
Sixteen 8mm red AB CRYSTALLIZED™-Swarovski Elements round beads
Sixteen 8mm Indian sapphire AB CRYSTALLIZED™-Swarovski Elements round beads
Seven 8mm white alabaster CRYSTALLIZED™-Swarovski Elements round beads
One silver plated nautical star charm
Four sterling silver EZ-Crimp ends
One large silver plated swivel lobster clasp
Two 10mm silver plated jump rings
One 6mm silver plated jump ring
.018 49 strand Beadalon wire
Chain nose sparkle pliers
Bent nose sparkle pliers
Sparkle cutter tool
EZ-Crimp tool
How To:
1.Cut off two 9 segments of .018 49 strand wire.

2.Attach an EZ-Crimp end to each wire with the EZ-Crimp tool. Compress along the shiny side of each EZ-Crimp and test to make sure the wires are secure before the next step.

3.Thread a blue crystal followed by a red crystal on each wire.

4.Thread the right wire through the right side of a white bead.

5.Thread the left wire through the left side of the same white bead. The wires will be crossing inside of the bead.

6.Pull the wires so the beads form a round shape and the wires are concealed.

7.Thread a red bead followed by a blue bead on each wire and repeat threading both through a white core bead.

8.Thread a blue bead followed by a red bead and repeat threading both through a white core bead.

9.Use this alternating pattern until you reach the final blue bead on both sides.

10.Slide an EZ-Crimp on each wire. Use the chain nose pliers to pull the wire through the end down flush to your final blue bead on each side, making sure not to pull it so tight that the design becomes too stiff.

11.Secure EZ-Crimp with pliers as before.

12.Cut off the excess wire.

13.Slide a 10mm jump ring through both ends on one side and add a lobster clasp before securing the jump ring closed with your bent nose and chain nose pliers.

14.Repeat on opposite side replacing the lobster clasp with a star charm attached to a 5mm jump ring.