How to Make a Simply Natural Necklace
Published December 2012
Designed By Ann Dillard / Content Supplied by Beadalon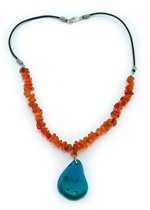 Techniques:
Crimping, Stringing
Materials & Tools:
8" Greek leather cord – cut in half (two 4" pieces)
Four cord ends
One 6mm silver split ring
One medium silver lobster clasp
Two #2 silver crimp tubes
10" .015" 49 strand Beadalon bead stringing wire
8" 20 gauge silver Artistic wire
One medium turquoise drop pendant
1 strand carnelian chips
Beadstrom™ Chain nose pliers
Beadstrom™ Round nose pliers
Designer Crimp Tool
Nipper Tool
Notes:
Finished length – 17 ½".
How to:
1. If hole in turquoise pendant goes from front to back instead of side to side, you will need to make it into a useable pendant. Thread turquoise pendant onto artistic wire and form to pendant with tips pointing up; the front tip should be about 2" long. Use the short end to create wrap above top of pendant. On the remaining wire that is centered above pendant, thread one carnelian chip and then make a loop by wrapping.

2. Crimp one cord end onto one piece of leather cord. Attach lobster clasp to loop. Crimp another cord end to the other end or leather cord. Repeat with other piece of leather cord except attach the split ring to the loop of first cord end.

3. Crimp Beadalon wire to one empty loop of one cord end on leather pieces (opposite clasp). String on 4" of carnelian chips, then add the pendant and complete by stinging another 4" of carnelian chips. Crimp wire to other empty cord end on other leather piece.