How to Make a Simply Lovely Bracelet
Published December 2012
Designed By Margot Potter / Content Supplied by Beadalon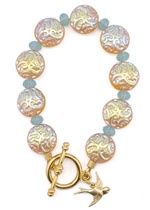 Techniques:
Stringing, Scrimps
Materials & Tools
Nine Double AB Finish Textured Peach Czech Glass Coin Beads
Eight 6mm Swarovski Pacific Opal Rondelles
One GP Bird Charm
Two 5mm GP Jump Rings
GP Large Beadalon Toggle Clasp
Two GP Beadalon Wire Guardians
Two GP Beadalon Scrimps
9" 19 Strand .018 Beadalon Wire
Beadstrom™ Chain Nose Pliers
Designer Flush Cutters
Scrimp Screw Driver Tool
Bead Board
How to:
1. Arrange beads and findings on your bead board. Precut a 9" length of beading wire.

2. Place a wire guardian on one end of the toggle clasp, using chain nose pliers to gently tighten the guardian in place to prevent it from slipping out of the toggle clasp end.

3. Thread the wire through a scrimp component, the wire guardian channel and back through the scrimp. Use chain nose pliers to pull wire through and secure against the scrimp component.

4. Screw the scrimp securely onto the bead wire.

5. Thread beads on the wire beginning with a coin and alternating between coins and rondelles until reaching the ninth coin.

6. Attach a second wire guardian to the other end of toggle as before, threading the bead wire end through the scrimp, wire guardian and back through the scrimp. Use the chain nose pliers to secure the wire flush to the bottom of the scrimp. Round the design to prevent it from becoming too stiff before tightening the scrimp. Use the scrimp pliers to tighten the scrimp against the wire. Test the wire to ensure that it is properly secured on both sides.

7. Attach bird charm to wire guardian loop with 2 jump rings.