How to Make a Silver Ocean Necklace & Earring Set
Published December 2012
Designed By Margot Potter / Content Supplied by Beadalon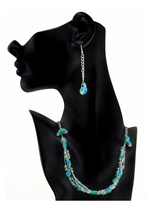 Techniques:
Stringing, Crimping, Simple Wire Loop
Materials & Tools
7 7.3mm short tube and 9mm long tube dichroic glass beads
6 - 9mm sea blue green medium spacer dichroic glass beads
2 - 12.5mm sea blue green medium disc dichroic glass beads
11/0 Toho blue-green inside color seed beads
4mm Toho green-green inside color magatama seed beads
11/0 Toho silver silver lined seed beads
6/0 Toho clear silver lined seed beads
4 10 in. lengths plus 2 2 in. lengths - Beadalon 49 Strand silver plated .015 in. wire
24 in. lengths plus 2 8 link lengths - Medium curb chain
1 - Small toggle clasp, silver plated
2 plus 2 - Size #3 Crimp tubes
4 - 1.0 in. Head pins, silver plated
2 - Ball & spring French ear wires
Designer chain nose pliers
Designer round nose pliers
Designer flush cutters
Designer mighty crimper
Notes:
To complete this project, you should be skilled at crimping, opening and closing wire as well as weaving multiple strands of wire. Iridescent ocean colors and flashes of silver wire are woven in a diaphanous net of extraordinary beauty. Stainless steel chain gives the design an edge and adds another element of shine. There are no rules here: let your inner designer play.
How to:
1. Using the mighty crimper, attach all four 10 in. lengths of 49 Strand wires to one 4 in. length of medium curb chain with a size #3 crimp tube. Make sure that the wires do not cross inside the tube for the most effective crimp. Use flush cutters to carefully trim the excess tail.

2.Each strand is randomly beaded with seed beads and magatama beads. Some are left exposed as they weave in and out of the Paula Radke beads. Sometimes in groups of three or two, freewheeling to your own design. Keep the tension loose and let the design grow organically: the less you map it out, the better. I stationed the Radke beads equally along the design and used a bead board to measure as I built the piece.

3.When you are satisfied and have beaded 8 in. strand, attach the four ends to the other 4 in. length of medium curb chain using the mighty crimper and a size #3 crimp tube.

4.Attach the small toggle to the other end of your chain using your pliers to secure the chain ends open and closed.

5.Add some Toho seed beads and Paula Radke dichroic beads to head pins and make a looped top.

6.Attach these to the bottom link of your chain, making sure that the loops are secured tightly.

7.Attach the 8 link chain lengths to the earring wires using your pliers to open and close the top chain links.

8.Thread a disc with one 1 in. length of 49 Strand silver plate wire and add on seed beads and magatama beads as you desire. Thread both ends of your wire criss-crossed through a crimp tube. Crimp with a regular crimp tool. Trim excess wire with flush cutters. Repeat this process leaving the seed beads to the opposite side of the dichroic glass bead to have a left and right earring.