How to Make a Pink Woven Bracelet
Published December 2012
Designed By Yvette Rodriguez / Content Supplied by Beadalon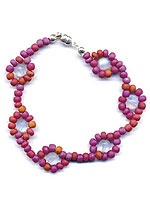 Techniques:
Stringing, Crimping
Materials & Tools
18 in. length - Beadalon 19 Strand bright .012 in. jewelry wire
Approx. 100 - Pink seed beads
6 - 6mm iridescent beads
2 - 2mm Size #1 Crimp beads, silver plated
2 - Double cup bead tips, silver plated
1 - 7x11mm Round magnetic clasp
Nipper tool
Designer chain nose pliers
How to:
1. Secure a crimp bead at the end of the Beadalon 19 Strand stringing wire using chain nose pliers. String a bead tip to cover the crimp bead. Gently close the bead tip over the flattened crimp bead.

2. String on 11 pink seed beads then one iridescent bead. Count back 6 seed beads from the iridescent bead and string the wire back through that bead.

3. Thread on 4 more seed beads.

4. Pull the wire back through the top bead closest to the iridescent bead. 5. Repeat steps 2 through 4 five more times.

6. Finish the bracelet by stringing on a bead tip and then the crimp bead.

7. Secure the crimp bead using chain nose pliers. Cover the crimp bead with the bead tip.