How to Make Petra Earrings
Published December 2012
Designed By Fernando DaSilva / Content Supplied by Beadalon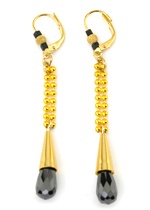 Techniques:
Basic wire loop
Materials & Tools:
2 Cubic Zirconias black half drilled briolettes
4 gold plated 4mm jump rings
2 of gold plated dbl ball chain 1.5mm
2 gold plated sparkle round beads
2 gold plated cones
1 pr of golden plated lever back
2 black square bead bumpers
Beadalon ergo chain nose pliers
Beadalon ergo round nose pliers
Beadalon Designer flush cutter
How to:
1. String one cone into the CZ wire and make a simple loop on top of briolette using round nose pliers and cut excess wire. Make a second one of this and set aside.

2.Cut chain ball in two equal pieces. Attach dangle CZ to chain opening loops with pliers;

3.Add a jump ring to the last link of chain. Add a second jump ring and attach to a lever back.

4.Slide onto plain lever back 1 square bead bumper, a round bead and another bead bumper.

5.Repeat all the steps to make matching earrings.