How to Make a Orbital Necklace
Published December 2012
Designed By Margot Potter / Content Supplied by Beadalon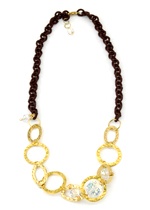 Techniques:
Simple Wire Loop
Materials & Tools
One 30mm crystal a/b CRYSTALLIZED™-Swarovski Elements disco ball faceted bead
Four 10mm crystal a/b CRYSTALLIZED™-Swarovski Elements disco ball faceted beads
Five 15x22mm gold plated textured oval rings
Four 24mm gold plated textured circle rings
Two 10mm gold plated jump rings
Three 6mm gold plated jump rings
Gold plated EZ-Lobster™ clasp
20 gauge gold plated German Style wire
Two 6.5 lengths dk. brown polyester chain
Round nose pliers
2 pairs chain nose pliers
Wire cutters
How to:
1.Cut two 6.5 lengths of polyester chain.

2.Attach lobster clasp to end of one chain.

3.Slide a 1 segment of wire into an 8mm round and create a tiny loop on one end of wire. Coil top of wire to make a coiled dangle. Repeat.

4.Cut a 5 section of wire and thread it around one side of a textured oval. Wrap it around four times, thread an 8mm bead on it and wrap it tightly around the opposite side, nestling the bead inside of the link. Repeat using a second oval and bead.

5.Repeat this process on a textured circle using a 20mm crystal bead.

6.Attach a 12mm jump ring on the chain that has the lobster clasp on opposite end adding a textured oval before closing.

7.Attach ovals and circles together with 6mm jump rings alternating between the two shapes. The wired shapes fall in at the 6th oval, 3rd circle and 7th oval.

8.Attach final oval to a 10mm jump ring sliding on the unused length of polyester chain before closing.

9.Attach two 6mm jump rings to the end of the chain with a coiled dangle on the bottom ring.