How to Make Oceanside Opulence Earrings
Published January 2013
Designed By Margot Potter / Content Supplied by Beadalon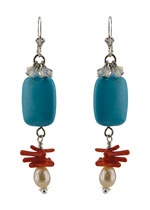 Techniques:
Simple Wire Loop
Materials & Tools
Two 18x13mm Reconstituted Turquoise Tile Beads
Eight Varied Pieces Small Branch Coral (center drilled)
Two 6mm Cream Faceted Freshwater Pearls
Eight 4mm Crystal AB Swarovski Bicones
Two Star Head Pins
Two SP Head Pins
Eight .5 SP Jump Rings
Two 4mm SP Jump Rings
Two Fleur de Lis Leverbacks
Beadstrom™ Round Nose Pliers
Beadstrom™ Chain Nose Pliers
Designer Flush Cutters
How to:
1. Create 2 double looped headpins with Turquoise tablet beads.

2.Thread a pearl and four pieces of branch coral on a star pin, create coiled and looped top. Repeat.

3.Create 4 loop top .5 head pins with crystal bicones.

4. Attach pearl drop to turquoise.

5. Attach top of turquoise bead to ear post using 4mm jump ring, sliding on two bicones, turquoise bead and two more bicones and leverback earring and securing with pliers.

6.Repeat for second earring.