How to Make a Nugget Bracelet
Published January 2013
Designed By Margot Potter / Content Supplied by Beadalon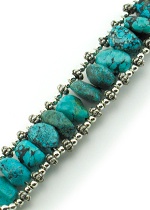 Techniques:
Stringing, Crimping, Simple Wire Loop
Materials & Tools
18" (45cm) length of .021"(.53mm) diameter bright Beadalon® 19
18" (45cm) length of 20-gauge silver Artistic wire
Twelve 20mm turquoise nuggets
Round silver beads: four 4mm, sixty 5mm
Twenty-two 7mm silver spacers
Two silver 1.5mm Crimp Beads
Two silver Double-Cup Bead Tips
One silver Hook & Eye Clasp
Beadstrom™ Chain Nose Pliers
Beadstrom™ Round Nose Pliers
How to:
1. Cut the Artistic wire in twelve equal pieces. For each piece: Make a loop on one end, string a turquoise nugget and make another loop. Set them aside.

2. Cut the piece of Beadalon® 19 in half. Hold the ends together and use a Crimp Bead to attach the Bead Tip. Connect it to half of the clasp.

3. String one 4mm bead and four 5mm beads on each strand. String a turquoise nugget as shown.

4. String one 5mm bead, one 7mm spacer and one 5mm bead on each strand. String another turquoise nugget. Repeat this step until all of the turquoise nuggets are strung.

5. Repeat Step 2 in the reverse order so that the end of the bracelet is symmetrical with the beginning.