How to Make a Moderne Necklace
Published January 2013
Designed By Margot Potter / Content Supplied by Beadalon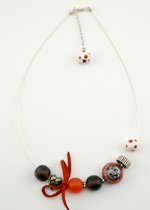 Techniques:
Stringing, Crimping Simple Wire Loop
Materials & Tools
Two 4mm jet a/b CRYSTALLIZED™-Swarovski Elements rounds
Two ceramic polka dot beads Jangles
Textured Steampunk disc Earthenwood Studio
Protection heart with eye pewter bead Green Girl Studios
Two 10mm frosted black Lucite Plaid Fresh beads
10mm frosted red Lucite Plaid Fresh bead
Three crystal embellished Jolees Jewels Rondelles
Recycled bottle cap bead Glass Garden
Silver plated 49 strand jewelry cable
Red Beadalon faux suede
2 segment silver plated rolo chain
Two silver plated Scrimps™ wire ends
Textured silver plated lobster clasp
Three 6mm silver plated jump rings
Silver plated head pin
Scrimp™
Two pairs chain nose pliers
Round nose pliers
Wire cutters
How to:
1. Attach a Scrimp finding to one end of a 19 section of jewelry cable.

2.Slide your beads on the wire starting with a black Lucite and an eye bead. Tie the faux suede into a bow around the wire, but not so tightly that it cant slide on the wire.

3.Add a red Lucite, crystal rondelle, black Lucite, crystal rondelle, bottle cap bead, crystal rondelle, steampunk disc and a polka dot bead.

4.Attach the second Scrimp finding to the open end of your jewelry cable.

5.Connect the clasp to the left side using a jump ring.

6.Connect the chain to the right side using a jump ring.

7.Create a coiled dangle with the jet crystals and the second polka dot bead and attach it to the open end of the chain with a jump ring.