How to Make a Magnesite Donut Focal Necklace
Published December 2012
Designed By Susan Davis / Content Supplied by Beadalon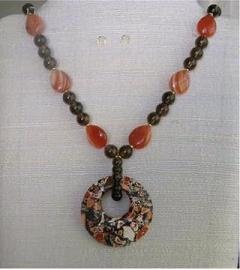 Techniques:
Crimping, Stringing
Materials & Tools:
1 Magnesite 50mm donut focal bead
8 8mm round smoky quartz
34 10mm round smoky quartz
10 puffy pear pink botswana agate
26 2mm gold plated spacer beads
2 gold filled crimp tubes
2 gold filled 5mm closed jump rings or wire guards
2 gold filled crimp covers
1 lobster claw clasp
2 gold filled 5mm open jump rings
2 inches of 3x5mm chain for extender
Enough .018 in. beading wire to make a 24 inch necklace plus enough for looping the donut focal and finishing at the ends (about 40 inches.)
How To:
1. I always, always start on a bead board laying out the beads until I have them the way I want them.

2. String 7 8mm smoky quartz onto the wire.

3. String the donut bead onto the smoky quartz and center in the middle of the wire.

4. String both ends of the wire through the last 8mm quartz bead.

5. Separate the wires and string on one side, spacer bead, one 10mm quartz, spacer bead, one puff agate, one spacer bead, three 10mm quartz one spacer bead, continue ending with one 10mm quartz.

6. Finish end with crimp through closed jump ring.

7. Repeat on other side finishing with crimp and closed jump ring.

8. Cover each crimp with crimp cover.

9. Attach lobster claw to right side of necklace with jump ring.

10. Attach 2 inch extender chain to left side of necklace with jump ring.