How to Make a Hunna Hunna Bracelet
Published January 2013
Designed By Fernando DaSilva / Content Supplied by Beadalon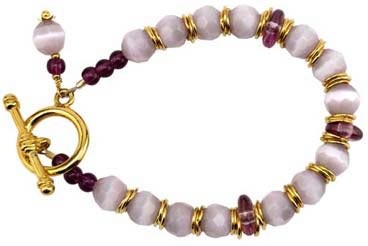 Techniques
Bead Stringing
Materials & Tools
Beadalon 49 Strand, 24k gold plated .018 in. jewelry wire
7 - 4mm Plum round glass beads
3 - 8mm Plum rondelle glass beads
15 - 8mm Purple round cat eye faceted glass beads
1 - 2 in. Ball star head pin, gold plated
1 - 20.6mm Large toggle clasp, gold plated
2 - Size #2 Crimp tubes, gold plated
48 - 6mm Jump rings, silver plated
Designer crimper
Designer Ergo chain nose pliers
Designer flush cutter
Designer Ergo round nose pliers
How to:
1.Cut 9 in. of Beadalon 49 Strand 24k gold plated .018 in. jewelry wire. Attach the wire to the circle portion of the toggle clasp using a crimp tube. Carefully secure the crimp tube using the crimper.

2.Thread beads onto the wire as shown in the photo. Use three jump rings as spacers in between the large beads.

3.Attach toggle portion of the toggle clasp to the other end using crimp tube. Be sure to leave some slack in the strand for comfortable wear.