How to Make a Olive Jade & Green Amber Necklace & Earrings Set
Published December 2012
Designed By Susan Davis / Content Supplied by Beadalon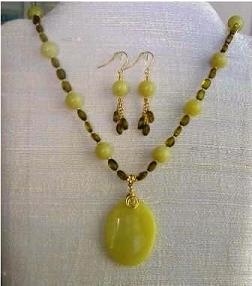 Techniques:
Crimping, Stringing, Simple Wire loop
Materials & Tools:
1 40X30 olive jade focal bead
14 12mm round olive jade beads (set 2 aside)
1 strand 8x6 twisted oval green amber (set 6 aside)
37 2mm gold filled spacer beads
1 Lobster claw clasp
2 gold filled crimp tubes
2 gold filled crimp covers
2 5mm closed jump rings or wire guards
2 5mm open jump rings
2 inches 3x5 extender chain
6 inches of 20 gauge round gold wire
4 inches 2x3mm gold filled chain
2 gold filled earring wires
2 gold filled 2 inch eye pins
Enough .014 beading wire to make a 22 inch necklace.
(I leave mine on the spool to keep the beads on and make sure I don't cut the wire too short.)
Necklace How to:
1. Place round wire through focal bead about 1-1/2 inches.

2. Bend both wires up and wrap short end around the long.

3. Use round nose pliers and bend long wire over about half way up pliers to make small loop bail, wrap wire around itself twice ending in the front.

4. At end of wire, make a rosette and place it on top of the twists. Set aside.

5. On bead board, lay out 12mm beads and amber beads to your liking, I used a 3 to one ratio ending with 3 amber.

6. String 1/2 the beads on the wire in whatever pattern you have chosen, placing a spacer bead between each bead.

7. At the center, string 2 amber, 1 spacer bead, string the focal on through the small bail, 1 spacer on the other side of the bail them 2 amber with spacer and finish the other half of the beads.

8. Finish each end with a closed jump ring or wire guard, a crimp bead and cover the crimp with a crimp guard.

9. On the right side of the necklace using the open jump ring attach the lobster claw clasp.

10. On the left side of the necklace using the remaining open ring attach the 2 inch extender.
Earrings How to:
Using the remaining beads, chain and eye pins, make a pair of dangle earrings with 3 amber on each side and cutting the small chain into 2 each 7 links, 5 links and 3 links. The General Beading DVD has perfect instructions for this.