How to Make a Gemstone Style Necklace
Published January 2013
Designed By Katie Hacker / Content Supplied by Beadalon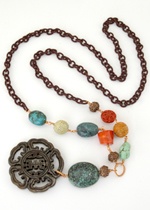 Techniques
Basic Wire Work
Materials & Tools
50mm brown carved stone pendant
30mm aqua turquoise bead
Three 10mm round copper beads
Two 20mm aqua turquoise beads
20mm green turquoise bead
15mm coral bead
18mm carved floral cinnabar bead
16mm fiber-wrapped brown bead
14mm fiber-wrapped green bead
29 length of brown fibrous chain
20-gauge natural Artistic wire
Jump ring maker with 10mm and 12mm mandrels
Wire twister
Wire cutters
Chain nose pliers
Round nose pliers
How to:
1.Cut three 6 lengths of 20-gauge wire.

2.Attach the piece of wire to the Wire Twister and follow the packaging instructions to twist them together.

3.Follow the Jump Ring Maker packaging instructions to make one 10mm jump ring and one 12mm jump ring using the twisted wire from Step 2.

4.Attach the 10mm jump ring to the pendant.

5.Cut a 6 piece of wire and make a wrapped loop on one end.

6.Connect the wrapped loop to the 10mm jump ring.

7.String a 30mm turquoise bead and a copper bead onto the wire and make another wrapped loop.

8.Connect the 12mm jump ring to the upper wrapped loop.

9.Cut a 2 length of wire and use it to make a bead link with a copper bead (make a wrapped loop on both ends). Connect one end to the 12mm jump ring.

10.Make a bead link with the coral bead, connecting one end to the copper bead before wrapping the loop. Follow the same technique to make the following bead links, connecting them as shown: 20mm aqua turquoise, 14mm green bead, 20mm aqua turquoise. Before closing the final loop, connect one end of the brown chain.

11.Make the following connected bead links on the other side of the necklace, connecting the first link to the 12mm jump ring and the last link to the other end of the brown chain: green turquoise, brown bead, cinnabar, copper bead.