How to Make Blue Baroque Earrings
Published December 2012
Designed By Fernando DaSilva / Content Supplied by Beadalon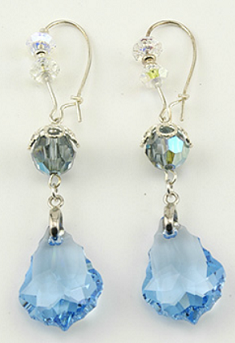 Techniques:
Basic wire loop, beading
Materials & Tools:
Two Swarovski 16 X 11mm aquamarine crystal pendants
Two Swarovski Indian blue sapphire AB 10mm crystal beads
Four Swarovski 6mm crystal AB roundelles
Four silver plated solid round rings
Two silver plated 10mm bead caps
One silver plated kidney 25 mm ear wire
Six clear bead bumpers
Two silver plated pinch bail
Two silver plated eye pins
Beadalon Ergo Round Nose Pliers
Beadalon Designer Flush Cutter
Beadalon Ergo Chain Nose Pliers
How To:
1. String round blue crystal and a bead cap into an eye pin. Make simple loop and attach to a small jump ring.
2. Attach pinch bail to blue baroque pendant and attach it to piece from step 1. Keep bead cap facing bottom part of earring.
3. Slide the following beads into ear wire: 1 bead bumper + 1ab roundel + 2 solid rings + 1ab roundel +1 bead bumper.
4. Repeat all the steps to make matching earring.