How to Use Beading Wire
Published December 2012
Content Supplied by Beadalon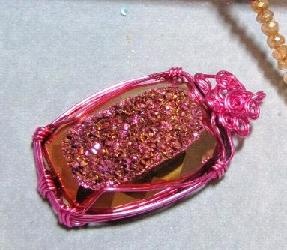 Beading wire is actually a bundle of fine strands of stainless steel wires, all encased in a nylon coating. Beading Wire is the best wire to use for most bead stringing projects. (It's best to use silk cord and synthetics for stringing pearls and other beads that require knotting, rather than for bead stringing.)

Beading wire is available in three sizes of 7,19, or 49 strands. The number of strands determines the flexibility of the wire. A 7-strand wire is less flexible than a 19-strand wire. A 49-strand beading wire is the most flexible, but it will also cost more than 7 or 19-strand wire. Therefore, beginners may want to become comfortable working with 7-strand or 19-strand wire before graduating to the 49-strand wire. It's important to remember that the number of strands does not determine the wire diameter, only the flexibility of it.

Choosing a gauge or millimeter size depends on the project. The larger the number, the smaller the diameter of the wire, so a 18-gauge wire is thicker than a 22-gauge wire, but both fall within the medium range of usefulness. Jewel School by JTV recommends selecting the largest diameter wire that will go through all the beads in your project. Over time, the friction or sawing between the beads and wire may cause breakage. The larger the wire, the greater resistance to abrasiveness.
(This is also a good time to mention the value of getting into the habit of using a bead reamer--a round file used to smooth the inside of the beads, reducing abrasiveness.)
Wire for Wire Wrapping Project
If your project calls for wire wrapping, it is vital you understand the three types of wire wrapping wire: dead soft wire, half-hard wire and hard wire.

1. Dead soft wire is exactly what the name implies; soft and pliable. Your fingers are the only tools required to bend it. If a jewelry piece will receive a lot of wear and tear, such as a bracelet, dead soft may not be the best wire choice because it can easily come out of its shape. If you like curly cues and spirals, it is the best choice.

2. Half-hard wire does not bend as easily as dead soft. It is an excellent choice for making loops and for wrapping the wire around itself when securing a bead.

3. Hard wire or full hard wire will keep your project intact. It is stiffer than the other two and will spring back into shape if it takes a knock or rap such as a bracelet might receive. You may need to use tools to manipulate hard wire into position.

Wire for wrapping comes in several shapes. The shape of the wire is visible by looking at the end of the wire or by viewing a cross section of the wire. Your design determines which shape will work best, and there are three basic choices: round, square, half-round (as well as triangular and twisted shapes.) Square is the eye-catcher in wrapped jewelry. It is also the wire choice when using the pin vise to twist wire. Half-Round is used to bind several square wires.

Jewel School's Artistic Wire is available in so many colors and will greatly enhance your wrapping projects. We have many colors in our inventory--including brass, lemon yellow, tangerine, peacock, brown and black--that is perfect for adding some spice to your jewelry.

As a jewelry maker and designer, you have a wide assortment of supplies available to you. Sometimes trial and error is the best teacher. Experimenting with your options is the key to success and confidence in beading. Price is also a consideration when selecting wire because it is available in silver plate, sterling silver, copper, steel, titanium and gold filled, and the prices vary dramatically. Let the wire work for you, and it will carry the weight of your project for a long time.