How-To: GemVue Compact Microscope
The GemVue™ compact stereo microscope is a flexible tool that allows you to examine gemstones, mineral specimens, coins, or other items of interest.
This microscope includes an illuminating light, adjustable eyepieces, stone holder, a white viewing platform, and a translucent viewing platform so that you can illuminate the gemstones from beneath the microscope.
20x magnification is achieved thru 10x eyepieces and a 2x objective lens.
Download printable PDF instructions here
Specification
Eyepeice Magnification: 10x
Objective Lens Magnification: 2x
Power Source: Two AA batteries (not included)
Installing the Batteries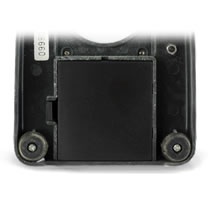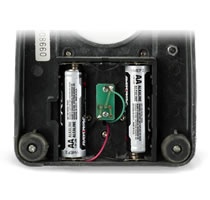 1. Locate the battery compartment on the underside of the microscope.
2. Remove the cover from the battery compartment.
3. Insert the batteries, making certain that their polarity (positive/negative) are oriented correctly.
4. Replace the battery cover
Replacing the Bulb:
1. Turn off the power to the bulb before you attempt to change it. Do not touch the bulb until it has a chance to cool down after extensive use.
2. Unscrew the lamp shield that protects the bulb.
3. Carefully remove the bulb.
4. Replace the bulb in the same slots as the inoperable bulb.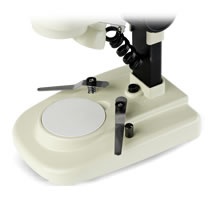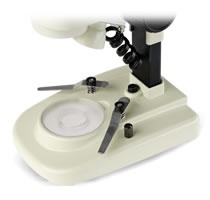 Switching Viewing Platforms:
This microscope comes with two distinctive viewing platforms. One clear translucent platform that allows diffused light to enter to enter from below. The second disk is white and not transparent. This stage allows for maximized contrast when viewing a stone.
Getting Started:
To get started with your compact microscope first select the stone you want to view. Once that is complete insert the stone into the stone holder then affix the stone holder to the base as shown in the picture below. Next, turn the power switch to the on position by pushing the power button. Adjust the eyepieces to fit the width of your eyes and then observe.
Maintenance Tips:
1. This microscope is a precision instrument. Do not drop it or expose it to direct sunlight.
2. Do not touch the lenses of the eyepieces. Clean them with a lint free cloth. Do not apply any solutions to clean the eyepieces.
3. Apply lubricant in VERY small amounts to the mechanical parts if friction occurs.
4. Use the protective covert to protect the microscope when not in use.
5. Store the microscope in a cool, dry place to prevent exposure to moisture.