JTV Goes to London for the 2012 Gem-A Conference
Published on JTV.com: November 2012
A Personal Perspective on Travelling with Co-Founder Jerry Sisk
By: Tim Matthews, CEO & President
This is page 6 of a 10 page article on the Gem-A Conference in London. Read page 1, 2, 3, 4, 5, 6, 7, 8, 9, 10
Rejoining Jerry after a couple of hours of marveling at the sights, we met for Dr. Ogden's lecture at Goldsmiths' Hall. In addition to his lecture there, one of the highlights of our conference was the graduation ceremony at Goldsmiths' Hall for students who have earned degrees conferred by Gem-A.
The setting was breathtaking. Goldsmiths' Hall, in close proximity to the famous St. Paul's Cathedral, is a wonderful architectural landmark. I took advantage of the opportunity to photograph Jerry along with a impressive bust of England's King Edward III.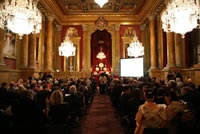 The interior highlight of Goldsmiths' Hall is the Livery Hall in which the graduation exercises were held. This hall is decorated with Corinthian columns of scagliola and is liberally anointed with gold leaf accents throughout, including the extraordinarily ornate moulded ceiling. The magnificent chandeliers light the room with modern electricity and are occasionally lit with candles in the same way as they were in the 19th century. Royal portraits of Prince Albert and Queen Victoria grace the walls. Extra care is taken of the gold buffet plates and cups that appear at the head of the room and are only displayed for special occasions.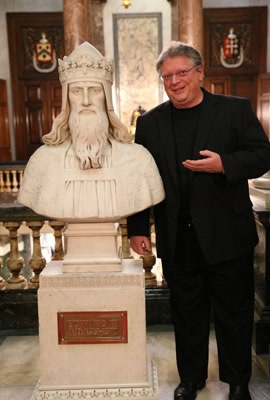 The graduation ceremony honored the superb achievements of the Gem-A graduates, who were conferred diplomas and prizes recognizing their studies and successful completion of Gemmology and Diamond Diploma examinations, and achieving eligibility for FGA and DGA status. Presentation of diplomas at graduation was handled by Claire Mitchell of Gem-A and Dr. Gaetano Cavalieri, President of CIBJO, the World Jewellry Federation. A special presentation was made by Dr. Cavalieri, who told his own inspiring story of how he entered the trade and the passion for advancing the industry. He emphasized to the graduates the importance of education and ethics in the future of the industry and highlighted the role of important role of CIBJO in advancing the cause of corporate social responsibility in the trade.