Caramel Spice Opal™
Published: March 2013
By Shawn O'Sullivan, JTV Vendor
Caramel Spice Opal is a unique opal variety hailing from a remote mining area in central Mexico. Distinguished by its multi-colored palette of delicious browns and creamy whites, this gemstone will doubtless remind you of your favorite caramel-drenched desserts.
Opal is a fascinating family of gems that continues to amaze us. In recent years, there was the exciting discovery of precious opal in Ethiopia's Welo district. A couple of years later, we were excited to bring you exotic fire opal gems from the same region. Last year, we introduced you to Colheita Fire Opal™ from Brazil. In early 2013, we introduced you to the regal purple Morado Opal®. Now, we are excited to bring you Caramel Spice Opal™. With its seemingly endless bounty, opal is one gemstone that everyone can get excited about!
Easily distinguished by its rare, unique swirling patterns of brown, tan and white hues, Caramel Spice Opal™ is very alien in appearance in its natural formation. Skilled cutters must carefully study each piece of rough before cutting to determine how to best display its swirl patterns.
Discovered accidentally while mining for Morado Opal®, Caramel Spice Opal™ is also a single source opal only found in this region. Both gems have all natural, untreated beauty, which is a rarity in the world of colored gemstones.
Rarity definitely comes into play with this special opal. It has taken more than a year of mining to unearth enough material to bring this exciting new gem to market, meaning that its availability is indeed limited.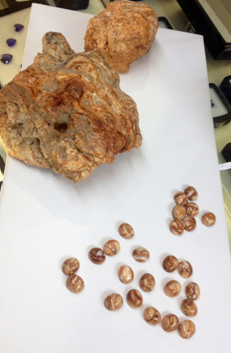 Due to its composition, Caramel Spice Opal™ has a hardness of 6, giving it a bit more resistance to scratching than most other opals. If you are an opal collector, this gem is a must-have for your collection. Or, if you like to wear your natural works of art from Mother Nature, this gem makes an exceptional choice as the focal stone when worn in earrings or a pendant. A word of caution: if you opt to set your Caramel Spice Opal™ into a ring mounting, we recommend a protective mounting such as a bezel setting.
We invite you to discover the beauty, rarity and uniqueness of Caramel Spice Opal™ today. You won't find it anywhere but JTV, your trusted gemstone source for nearly 20 years!