The Fine Mineral Show is the brainchild of visionary David Waisman, who sees these shows as a means of involving both the public and the private sector in the Earth Sciences in a way that we can all enjoy. The show boasts three locations (Houston, San Francisco, and Tucson) and a reputation of having the upscale mineral show of the Tucson Experience. Its newest member of the family was the San Francisco show held July 2010.
Mineral Collectors versus Gem Collectors
In the style of the majority of the shows in Tucson, the San Francisco show was held in a hotel, and visitors moved from room to room with a new vendor in each. Vendors set up tall showcases and artistically filled them with some of the rarest, most unusual, and just plain gorgeous specimens of minerals of all kinds. What makes mineral collectors different from gem collectors is that, while mineral collectors definitely appreciate the gem version of a mineral, what they collect is a mineral specimen that is as close to natural as possible. And most have a specific genre that they collect. Some collect only crystals...some only black minerals...some only replacement minerals.
These minerals were museum-grade pieces. Several of the vendors had even sold pieces to local and national museums. The specimens at this show, which were mounted and presented as raw works of art from the earth, were chosen not just because they are rare. They were also chosen for their combination of quality, aesthetics, and symmetry.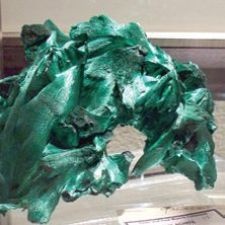 Opal
I just mentioned replacement minerals, known as pseudomorphs or crystals that have a false shape because the mineral has actually replaced a previous mineral or fossil. The Virgin Valley Opal occurred when opal replaced wood in the Virgin Valley, NV area. This opal isnt usually used in jewelry because of its tendency to craze as it dries. It is usually kept as a specimen in a collection.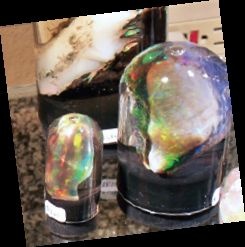 Tanzanite
There was an impressive wall of tanzanite from New Era Gems with crystals from cobalt blue to golden to pink! The display also had blue to green color-zoned tanzanite and gorgeous carvings. The colors displayed when lit from different angles were truly dramatic.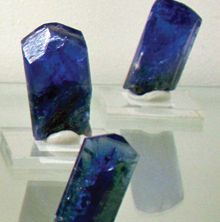 Benitoite
California's state gem, the extremely rare benitoite, was represented by Earth Treasures in both specimens and finished jewelry. The tabular shaped blue crystals on the matrix were benitoite, and the long black crystals were neptunite.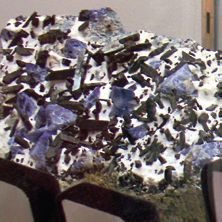 Calcite
A stunning calcite with chalcopyrite from Atomic Perfection was one of my favorites because of its size (it was close to two feet wide) and the unusual habit of the chalcopyrite on the edges of the crystals.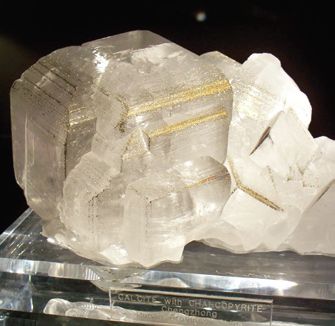 Tourmaline
Tourmalines from Paprok in Afghanistan (a very collectible locale) were evident in almost every room with shiny, showy displays. Most tended to the pastel hues and had a multi-color banding with a distinct translucent to transparent appearance.
There are many Gem & Mineral Shows across the country! Find one near you at: http://gemshows.blogspot.com/.