Jewelry Making
From beads, tools, supplies and gems to kits, findings, organizational and storage options, it's a jewelry crafter's dream.
Beads
Bundles of beads in a variety of colors, shapes and sizes bring beauty and diversity to your design.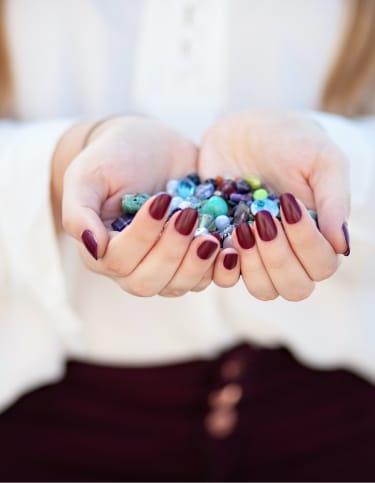 Findings and Accessories
Clasps, connectors and jewelry extenders put the finishing touch on your treasure.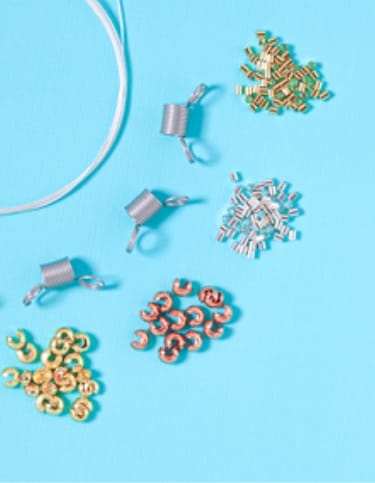 Jewelry Making Kits
Find everything you need to complete your custom creation in one convenient place.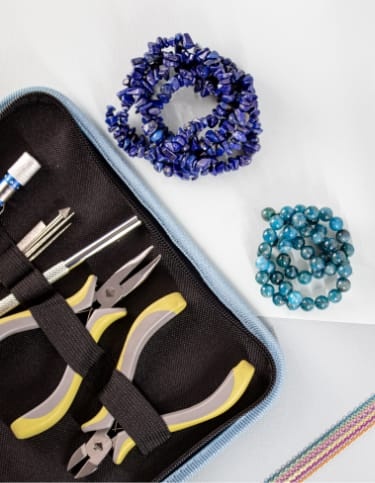 New Arrivals
The newest supplies and must-have materials for your own masterpiece.
Tools
Be ready with the right tools of the trade such as flashlights, pliers, and magnifying lenses.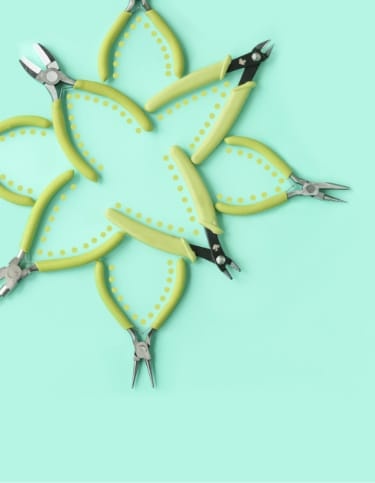 Wire
Shape your own jewelry styles with a vast collection of artistic wire, flex beading wire and more.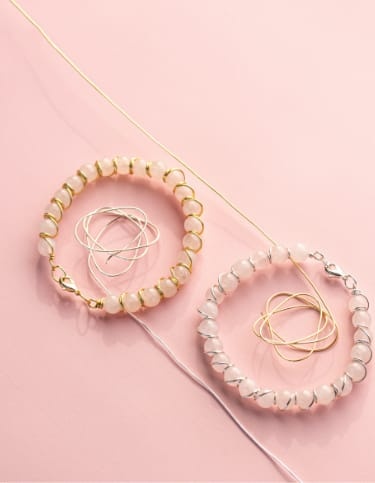 Stringing Material
String together your jewelry crafts with a variety of cords to fit every custom creation.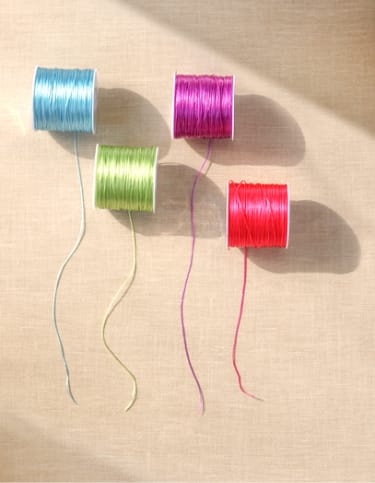 Get up close and personal with more of the JTV you love. JTVextra™ is our live, online broadcast bringing you more fun, more sparkle, more wow! It's a fabulous new interactive way to shop online, hosted by your favorite JTV friends.
---
Take your love for jewelry to the next level by creating your own unique creation or jewelry masterpiece. You can easily create jewelry inspired by all your favorite things and just as unique as you are. Have you ever wanted to make your own piece, but didn't know where to start? Here at JTV we have your favorite beads, wire, tools, and so much more. We are your one-stop shop for all things jewelry making. With JTV by your side, you'll be a jewelry-making pro in no time!
What jewelry making tools do I need?
In order to create the jewelry piece of your dreams, you will need a few tools to get started. Here's our list of some of the tools you might need:
The 1 Step Big Looper: This tool creates 3mm loops and bends and trims wire between 24-1 gauge.
Designer Flush Cutter: Cuts soft wires.
Jewel School 10 Piece Ergo Tool Kit with Pouch: This kit has all the tools in one. It includes chain nose pliers, bent chain nose pliers, round nose pliers, flat nose pliers, cutters, awl, measurement gauge, reamer and files with handle, and tweezers/scoop tool.
Om Tara Dual Crimper Designed by Artist Laura Gasparrini: These will make the crimping process easier, more efficient and more fool proof. It has two crimping notches.
Vintaj Basic 1 Step Looper: This tool loops head pins and eye pins in one easy step.
Wubbers Large Looping Pliers: Makes approximately 4.2mm round loops.
Kleshna's Ring Weaver Tool Kit: This set also includes Argentium and 1/20 14k gold filled wire.
Jewel School Home Studio Tool Kit and Stand: This kit includes all the tools you will ever need for Jewel School videos.
Multi pliers: This all-in-one pair of pliers includes a chain nose and round nose plier.
Clearsight Prop Headband Magnifier: With a magnifier lens of 1.25x and an 8-inch focal length adjustable headband, this tool will make it easier to see all those tiny details.
How do I start making my own jewelry?
If you don't know where to start, our Jewel School is exactly where you need to go to start your journey. Enjoy our free project tutorials for all your inspiration. Get all the ins and outs of jewelry making with Jewel School from JTV. Whether you are just starting out or you are a jewelry making pro, we have something for anyone and everyone. Jewel School has everything from tutorials to suggestions on certain products. No matter what your skill level is, the JTV jewelry making experts will be there for you as they walk you through the steps of every jewelry making tutorial.
How do I learn about jewelry making?
Learning about the world of jewelry making has never been easier! Explore our books and DVDs all dedicated to jewelry making. Whether you want to watch how to make jewelry or read about it, our step-by-step guides will help you master your skills in no time. Use our informative materials to discover fun and exciting ways to create your own jewelry. Piece by piece, everything will come together, and you will create a stunning piece of jewelry you will never forget.
What other tools will I need?
Before you start your jewelry making endeavors, there are a few other tools you may need. Here at JTV, we offer all the tools you could possibly need.
Jewelry Making Wire:
Discover all the jewelry making wire you need to create your own unique jewelry designs and creations. Jewelry making wire comes in gold, sterling silver, copper, aluminum and base metal of a multitude of sizes and colors perfect for shaping into whatever you desire.
Stringing Material:
String together your jewelry creations like you never have before. With JTV's collection, you will find everything from beading rope to climbing rope. JTV has stringing cords of a multitude of materials including fine silk and satin cord, casual nylon and braided polyester cord and strong leather, metal and bolo cord.
Jewelry Beads:
Show off your personality with jewelry making beads from JTV! Beads are perfect for jewelry-making beginners who want to learn the art or seasoned hobbyists who wish to expand their craft. We have the colors and shapes that your collection needs.
Findings and Accessories
No matter what you are creating, you will need the perfect findings and accessories to complete your jewelry creation. JTV offers all the findings and accessories you could need including jump rings, crimps and clasps, end caps, head pins, eye pins, ear wires and earring backs.