How to Make a Pink Memory Wire Bracelet
Published December 2012
Designed By Carole Rodgers / Content Supplied by Beadalon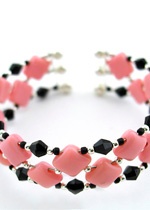 Techniques:
Stringing, Memory Wire
Materials & Tools
17 9mm pink square 2 hole beads (a)
17 5mm black faceted bicone beads (b)
54 2mm round silver beads (c)
34 11º matte black seed beads (d)
3 Beadalon® Bracelet Memory Wire 6-8
6 Beadalon® 5mm memory Wire End Caps
2 Beadalon® 3 Hole Strand Spacers
BeadFix™
Beadstrom™ Chain Nose Pliers
Measuring Tape
Notes:
The sample bracelet measures 7 and the instructions are written for that measurement. You will need to adjust bead amounts for smaller or larger bracelets. Beads will be referred to by the abbreviations given in the materials list.
How to:
1.Measure your wrist, add ¼ and cut the memory wire to this measurement. Cut three pieces. To cut memory wire hold it at the point you wish to cut it with your pliers and bend it back and forth until it breaksusually a couple of times. Do not use a wire cutting tool as the wire will damage it.

2.To make the bracelet glue an end cap to one end of each piece of wire and hold a minute or so until the glue sets.

3.The pink beads are domed slightly on one side. You will need to reverse every other bead front to back as you thread them on. The holes go diagonally through the corners. To start bracelet thread one wire through the center hole of one of the strand spacers. Then thread on 1 c, 1 a, 1 c, 1 a and so on until you get to the other end of the wire being sure to alternate sides of the pink beads. Finish with a c bead. Thread wire through center hole of second strand spacer and glue and end cap on the end.

4.Thread second wire through one of the remaining holes of the strand spacer close to a pink bead. Thread on 1 c and pass wire through second hole of first pink bead. Then thread on 1 d, 1 c, 1 b, 1 c, 1 d and pass through third pink bead. The second pink bead will be threaded on the first strand. Continue adding the five bead pattern between the pink beads to the other end. Because there are an uneven number of pink beads you will end that wire with 1 c bead. Pass through the strand spacer and glue an end cap in place.

5.For the remaining wire thread it through the strand spacer and pick up 1 d, 1 c, 1 b, 1 c, and 1 d. Pass through a pink bead. Continue around the bracelet. End with the five bead pattern. Pass through the strand spacer and glue on an end cap.