Gem-A GemBasics Online Courses
Learn the basics of gemstones in simple, easy-to-understand language and practical applications. Perfect for anyone pursuing a career in the gemological industry, or simply with a passion for gemstones, you'll find the information in our GemBasics course invaluable in your quest to expand your knowledge of gemstones.
Over a year and a half in development, GemBasics was designed around the educational needs of JTV customers, and to fill a void in available gemological education. Students may work at their own pace, and recieve a statement of achievement recognizing them as a Gem-A Colored Stone Associate (Gem-A C.S.A.).
Included:
12 Lessons
Gemological Tools
Gemstones & Specimens
JTV Price: $499.00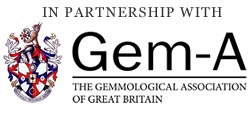 Getting Started
When you purchase GemBasics from JTV, your package will include everything you need to get started, including 12 lessons, gemological tools, and a variety of gemstones. Your package will also include the unique course login information you'll use to complete your studies.
About Gem-A
Recognized worldwide as the oldest and longest-established provider of gemstone education, many Gem-A graduates have gone on to become leading industry experts and professionals.