Gem-A Gemology Foundation Course
The Gemology Foundation Course is the building block for further advanced study in gemology. Whether you want to further your career in the trade or simply learn about gemstones, this certified course is for you. Once completed you will be able to identify, test and handle a wide variety of gemstones. Successful students will receive a Foundation Certificate in Gemology from Gem-A. Graduates can use the qualification Cert. GA after their name.
To register, call (865) 692-6000 ext 3610 from 8am EST to 5pm EST Monday through Friday.
Please email education@jtv.com for more information.
Prospective students must read and agree to the Terms & Conditions before registering.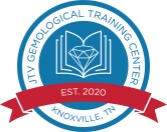 Course Objectives
Learn what constitutes a gemstone, how to identify common gem materials confidently, and the properties and uses of certain gem materials.
Apply knowledge of gemstone properties to their proper care and commercial use, including gemstone fashioning and use in jewelry.
Explain the value and price factor of gemstones.
Handle rough, cut and set gem materials, such as diamond, sapphire, ruby and emerald, as well as organics and a range of treated and imitation gem materials.
Learn how to use basic gemological equipment and report accurately on the various observations and results of tests conducted on gemological specimens.
Learn about the origin and formation of gemstones and the various stages of the gemstone pipeline.
Learn how to distinguish between gemstones.
Course Materials Provided
Fully illustrated Foundation Course Notes
Foundation Practical workbook
Gem Set: Foundation Stone set containing rough and cut specimens
Portable instrument kit, including 10x lens, tweezers, stone cloth, spectroscope, dichroscope, flexi light, flat light, folding polariscope, conoscope, Chelsea color filter and kit bag.
Methods of Study
Predominantly classroom based: practical and theoretical 1 full day (6.5 hours per day). Total classroom hours: 104
Online element: online assessed coursework
Self-guided study
Assessment
Assessed coursework (4 online assignments)
Written examination (theory)
Written examination (practical)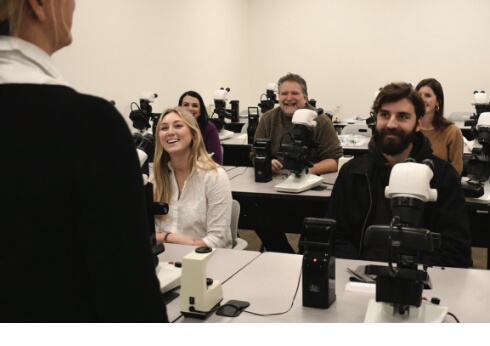 2021 Class Dates and Cost
The Gemology Foundation Course will be held over a five-month period from September 2021 through January 2022 and includes 16 total classes. The classes will be taught on the following Fridays from 9:00am to 4:30pm EST (6.5 hours) with an hour lunch break:
September: 3, 10, 17, 24
October: 1, 8,15, 22, 29
November: 5, 12,19
December: 3, 10
January: 7, 14 Exam Tuesday January 19 2022
The Gemology Foundation Course includes 104 total classroom hours and the cost is $4,480.00.
Meet the Instructor:
Claire Scragg
FGA, DGA, DG, AJP

Claire Scragg is a member of the JTV education team and is dedicated to sharing her passion and knowledge of gemstones, minerals, and jewelry with others. She began her journey with jewelry and gems in the 1990s and worked for two family-owned retail jewelers in Great Britain for several years. Her fascination and love of gemstones grew into a passion which brought her to study full-time with Gem-A in London's jewelry district.
In 2004, Claire joined Gem-A as a full-time instructor where she taught Gem-A certification programs after successfully completing and receiving diplomas in Gemology and Diamonds. She has also taught gemology lab classes and seminars at events and conventions around the world including JTV Gem Lovers, IJL (International Jewelry London), AGTA gem show, Tucson show, and the Mediterranean Gemological Conference. In addition to maintaining a busy teaching schedule, Claire has written articles for gem and jewelry trade publications in the UK and U.S. She has also followed her passion for gemstones and minerals to the gemstone mines of Europe, East Africa, Brazil, Madagascar, and Sri-Lanka.