Take the starry night sky with you on your evening out when you wear JTV's drusy quartz jewelry. Dark with a curious shimmer of light, looking at drusy quartz jewelry is like taking a ride through the Milky Way. Wear the night, and enjoy drusy quartz jewelry now.


Sorry, you may only compare up to 4 items. Please remove an item to add a new one.
Gemstone Information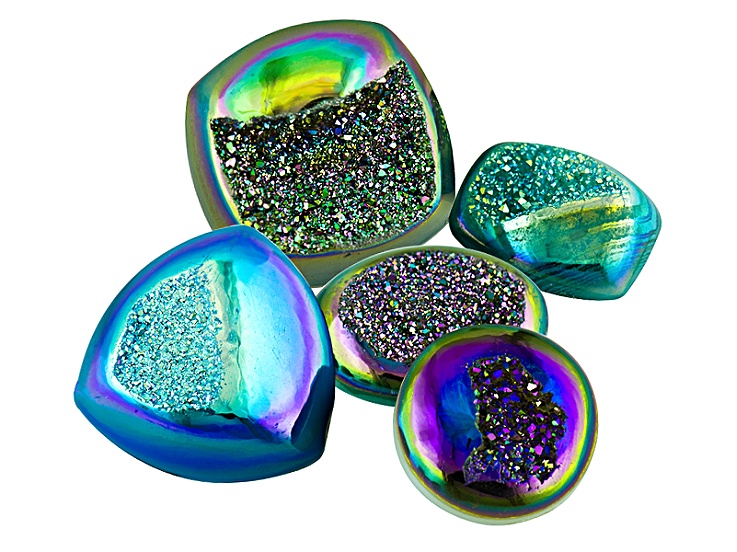 Gemopedia™
The word "drusy," is a mineralogical term used as both a noun and an adjective. The noun refers to a mineral coating of thin layers of tiny, tightly-packed crystals that resemble glittering sugar granules. The adjective refers to any such granulated crystal layers in reference to a given mineral; in this case, drusy quartz. Drusy quartz is usually found in the inside of geodes. When fashioned into loose gemstones and jewelry, it is often coated with a metallic color to capitalize on the glittering natural crystal facets and give it a more bold appearance.
Drusy Quartz Earrings and More
Drusy gemstones are ones with clusters of tightly packed crystals that form either within stone or on its surface. Because of this intricate pattern of minute crystals, drusy quartz jewelry has a unique look and appeal. Drusy quartz jewelry most often looks like sparkling snow sparkling in intense sunlight!

Drusy quartz jewelry, just like regular quartz jewelry, comes in a variety of different colors. You will find platinum drusy quartz jewelry alongside colors like baby blue, sienna orange, smoky quartz, rose, gold, fern green and more. Because of the unique texture and appearance of drusy quartz jewelry, it's great to pair with existing pieces. Try a pair of cobalt blue pair of drusy quartz earrings to match your blue quartz necklace or quartz bracelet. Find that perfect pair of drusy quartz earrings today to make your outfit shimmer and shine. You'll be glad that you did! The brilliance of drusy quartz cannot be overstated. Visit JTV today to find out for yourself.
You might also be interested in: Quartz Earrings
Share the Jewelry Love
Shop your favorite photos and share your own with #JTVjewelrylove for a chance to be featured!