Crystal Jewelry
The options are crystal clear with crystal jewelry in various shades. From bracelets to earrings and rings, find a piece that speaks to you.
366&nbsp Products
Sorry, you may only compare up to 4 items. Please remove an item to add a new one.
Gemstone Information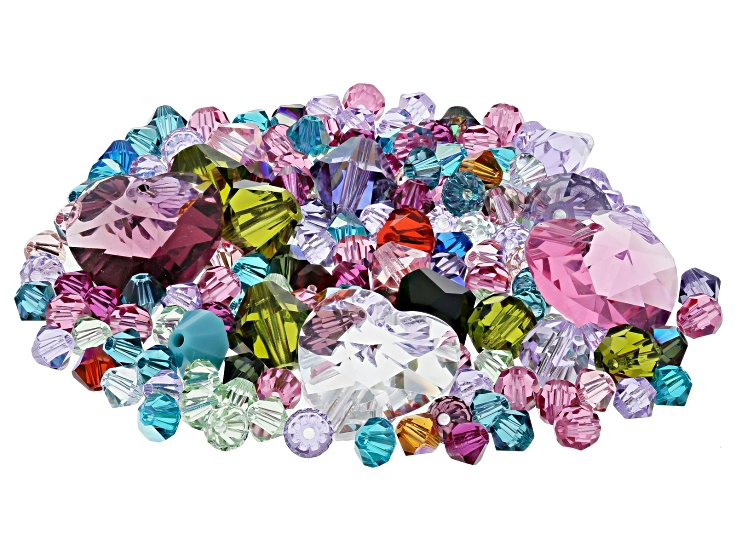 Gemopedia™
Lead glass or crystal glass is frequently called crystal. George Ravenscroft patented a process for making lead crystal around 1673 in London. The addition of barium oxide, lead oxide, potassium oxide or zinc oxide, to glass improves clarity, raises the refractive index, and increases dispersion. Famous crystal manufacturing houses are located in Austria, France, Ireland, and Sweden.
Crystal Jewelry Sets & More
Shop for stunning crystal jewelry at JTV. Whether you're after crystal jewelry sets or single pieces – watches, bracelets, necklaces, rings, brooches, pendants, earrings and much more – JTV is the crystal clear choice for a huge selection of affordable jewelry.

Watch yourself with JTV's stunning selection of crystal timepieces. These sparkling watches aren't limited to the neutral tones often associated with crystal jewelry. With watch faces from across the rainbow, multitudinous bands and an expansive selection of watch sets or individual timepieces, you can find the perfect accessory to match any event or occasion.

Check out JTV's assortment of pins and brooches to add some shine to your tops. From multicolored animals to intricately designed geometric patterns, gleaming gemstones and crystals play off one another in pristine settings to produce some of JTV's most fabulous accessories.

Create a cohesive theme when you add a matching pendant necklace to your brooch. Of, course pendants aren't dependent on other crystal jewelry. They can also be standout statement pieces, a feature that the inclusion of crystal only accentuates!

Crystal bracelets are bountiful. There's oversized cuffs, shining stretch bracelets, bangles that figuratively bend to your style desires and much more. Crystal charms are perfect for preserving travel memories or life's special milestones. Whether crystal is a feature or an accent, these bracelets make your wrist the star.

Find earrings that feature crystals in red, teal and black. From studs to dangles to hoops, JTV crystal earring sets are here to suit any style.

When it comes to crystal jewelry, the choice is clear: JTV.