From loose gemstones to mineral specimens, expand your gemological education and explore your own gemstone journey.

Tune in and watch Gem Discoveries by gemstones.com Mondays at noon ET.
Watch Now!
Bring on the blue with bright and irresistable sapphire gemstones! There's a reason that this stone has been one of the most popular over the years.
Sorry, you may only compare up to 4 items. Please remove an item to add a new one.
Gemstone Information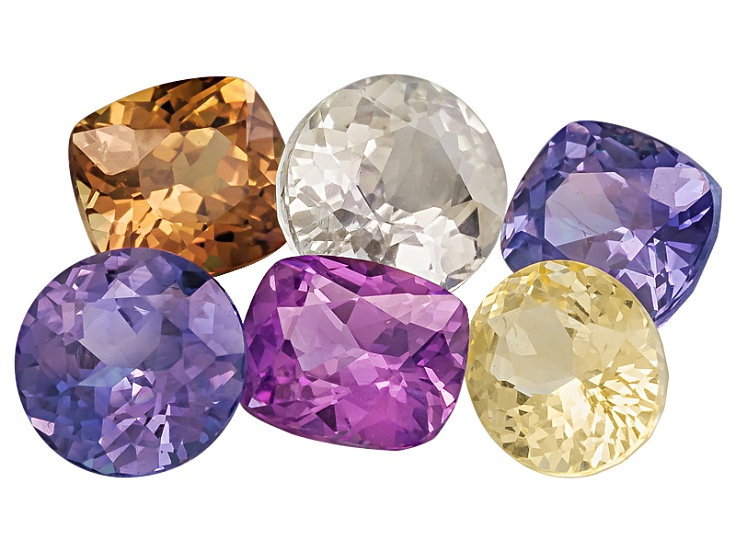 Gemopedia™
September's birthstone has come a long way since the days when any and every blue stone was called a sapphire. Though its fame is shared with its "Big Three" counterparts ruby and emerald, sapphire has enjoyed a long run as one of the world's most beloved gemstones, earning itself a place of honor in crown jewels, royal accessories, museums, and even in modern royal engagement rings. Lest sapphire get too haughty, it has common uses as well. The rough polishing material on emery boards is made up of lower-quality corundum grains, strengthened with hematite, magnetite and quartz.
Loose Sapphire Stones
If you enjoy collecting gemstones, consider adding sapphire gemstones to your collection. As September's birthstone, stunning sapphire will give you the shimmer and glimmer you need to make any day sparkle. Experience brilliant, eye-catching hues and intriguing shapes when you explore this expansive selection. You will find amazing styles and affordable prices when you buy gemstones online at JTV.

Discover the beauty of sapphire gemstones. In addition to the classic blue sapphire gemstones you know and love, you will also find lovely stones in pink, purple, orange and yellow hues. From round shapes to square shapes to pear shapes and beyond, this selection offers a variety of gorgeous styles for you to browse. Shopping is fun, easy and totally stress-free at JTV.

Sapphire gemstones are a lovely gift for any occasion. Shop sapphire for birthdays, anniversaries or holidays. You can gift someone, or even gift yourself. Pair sapphire with quality jewelry settings, and you're ready to roll for your next jewelry creation. A gorgeous sapphire bracelet or sapphire necklace could be your newest jewelry design.

One look at this selection and you'll see why sapphire gemstones are a favorite amongst gemstone lovers. After all, vibrant colors and incredible sparkle are hard to beat. At JTV, quality is high and prices are low, so it's a win-win as far as shopping is concerned. When you're finished, continue exploring other sapphire jewelry, including sapphire rings, sapphire earrings and more.

Enjoy great styles and great prices on pretty pieces that you love. Shop sapphire gemstones today.
You might also be interested in: Sisk Gemology Reference
Share the Jewelry Love
Shop your favorite photos and share your own with #JTVjewelrylove for a chance to be featured!