From loose gemstones to mineral specimens, expand your gemological education and explore your own gemstone journey.

Prasiolite Gemstones
Dream green with JTV's collection of prasiolite gemstones. Discover this soft shade in charming cuts and styles today.
Tune in and watch Gem Discoveries by gemstones.com Mondays at noon ET.
Watch Now!
Prasiolite Gemstones
Dream green with JTV's collection of prasiolite gemstones. Discover this soft shade in charming cuts and styles today.
Sorry, you may only compare up to 4 items. Please remove an item to add a new one.
Gemstone Information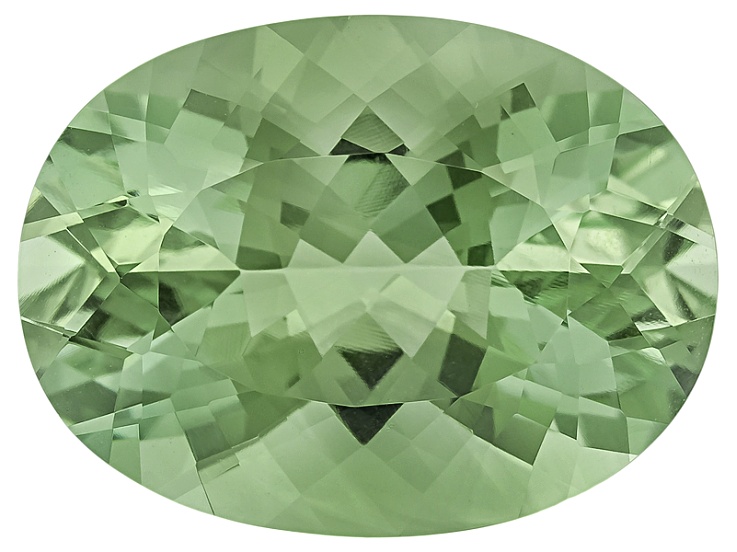 Gemopedia™
A pastel dream, this variety of quartz boasts a beautiful soft green color. Sometimes incorrectly referred to by the misnomers "green amethyst" or "lime citrine," prasiolite is rarely found in nature, so most material available on the market is produced by heating or irradiating amethyst. Prasiolite is an exciting gem in that it is readily available in large sizes with high transparency and great durability.
Loose Prasiolite Stones
Prasiolite, also known as green quartz or green amethyst, is the perfect shade of soft, translucent green. This light-colored gemstone is the perfect addition to any spring outfit! Add the subtle sparkle of prasiolite to your hand-crafted accesories and allow the durable gemstone to make you the star of the show! Prasiolite is the ultimate dream stone for gem collectors looking for distinct attractive color, availability in large carats, eye cleanliness and affordability.
This almost transparent gemstone seemingly appeared from nowhere, and is further mystifying by its many names. Prasiolite is also known as vermarine, mint quartz, green amethyst, lime citrine, and green quartz.
Some gem enthusiasts declare all prasiolite to be enhanced amethyst or citrine quartz. In fact, geologists have found modest deposits of naturally-occurring, transparent green quartz near hot springs, causing speculation that those mineral waters are also iron rich. The small alluvium located in nearly inaccessible areas rendered these extraordinary finds unsuitable for commercial use. The Smithsonian Institute has crystal fragments of natural green quartz from Brazil dating to 1884. In Tucson in 2010, a rare gems specialist, K & K International of Falls Church, Virginia, brought specimens of the natural material faceted into oval brilliants of .40 carats, which have been in their collection for years.
Prasiolite Process
Popular prasiolite occurs from amethyst or citrine undergoing a selective heat treatment in the presence of iron, transforming the quartz into a cool leek or celadon green. This is done to mimic how nature produces this ethereal treasure. Exceptionally clean crystal rough is selected for this process, even though quartz is, by nature, relatively inclusion free. This clean rough assures even color distribution. Most prasiolite comes from the Montezuma mines at Minas Gerais, Brazil. (More recently, it has been found in the United States, but Brazil is certainly the main channel for the material.) Brazilian suppliers, striving for more dominance in the global loose gem market, make prasiolite a priority. The impression was that prasiolite was the new kid on the block; in reality, that process has been performed since the 1950s. The term greened amethyst appeared 30 years ago in American Mineralogist Volume 62, 1977 A Unique Green Quartz.
Cut and Color
The attractive stone is often cut in large carats and with complex cuts to force the best color from the pale stone. Briolette, concave, and checkerboard crown cuts are favored, intensifying the hue. Luxury designers often feature several prasiolites together or paired with other green or pastel-colored stones. Current prices remain strong for well-cut stones of good color. In Tucson, a Brazilian buyer at an American vendors booth remarked that its better to buy prasiolite in the states than in Brazil, citing that the market demands higher-quality goods be shipped to the US. But dont expect their pricing to remain affordable for long.
As expected with numerous gemstones, a range of colors and tones are found in prasiolite. Only 30% of each batch of quartz undergoing this treatment transforms into the cool green color. Without proper identification, some of it might be mistaken for green beryl or a light-toned green tourmaline. Dealers use specific gravity testing in the field for gem identification and know that the similar SG of beryl (2.6-2.9) and quartz (2.65) could lead to a case of mistaken identity. Nevertheless, prasiolites RI verifies it as quartz, reading 1.54 - 1.55 on the refractive index and making a separation conclusive.
At an Atlanta trade show, a vendor included prasiolite with distinctive dusky undertones in his offerings. The dealer explained that his were smoky quartz, having undergone the heat treatment. The majority of these stones possessed attractive medium tones, a characteristic that designers look for in large carats. The occasional stone displayed a brownish-green color, reflecting its origin. This may signal that consumer demand is forcing suppliers to keep many variations of this gemstone available to meet the call.
Fashion Jewelry
Pretty prasiolite fuels the imagination of fanciful designers driven by inspiration in their ingenious styling, which is why one sees this stone turning up in $5,000 designer goods. With custom jewelers adding prasiolite to their repertoire, wholesale prices are bound to reflect this fondness.
When buying prasiolite, keep in mind that well-proportioned cuts fare better over time and have increased potential in jewelry designs. As to prasiolites color, whether darker toned or pale, its really a personal choice. This dreamy jewel has yet to realize its full potential, but savvy collectors are making this pretty stone a favorite.
You might also be interested in: President's Collection Gemstones
Share the Jewelry Love
Shop your favorite photos and share your own with #JTVjewelrylove for a chance to be featured!